Computer Science (Undergraduate) at Loughborough University
Computer Science is a rapidly evolving and increasingly important field, pervasive in almost all areas of science and modern day life. Computer Science graduates are therefore in high demand across a diverse range of industries, as is reflected by the success and exceptionally high starting salaries of our graduates.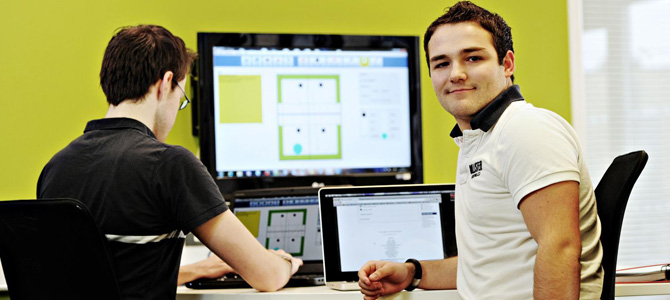 Ranked 6th in The Guardian University Guide 2017

Top 5 in the UK for overall student satisfaction (2016 National Student Survey)
The Computer Science course is firmly grounded in theory and practice; a strong emphasis is placed on mathematical ability, logic and programming. The course offers numerous quality placement opportunities in industry, and it can be tailored to a variety of career paths via the choice of specialist modules.
Computer Scientists need a diverse set of practical and theoretical skills. This course provides students with a strong foundation in the critical areas of Computer Science whilst also giving the opportunity to tailor the degree to their own strengths, interests and career aspirations via the choice of specialised modules and project work, which are taught and supervised by world leading experts.
To learn more please visit the courses page here.
Find us on Social Media:



Facebook.com/lborouniversity


Twitter: @lborouniversity


Youtube: /user/lborouniversity


Instagram: lborouniversity