Chemistry (Undergraduate) Courses at Loughborough University
At Loughborough University you will study the principles and applications of modern chemistry that underpin many important UK industries with an emphasis on hands-on laboratory work. Our Department of Chemistry provides you with a stimulating and supportive learning environment and the opportunity to develop a wide range of transferable skills.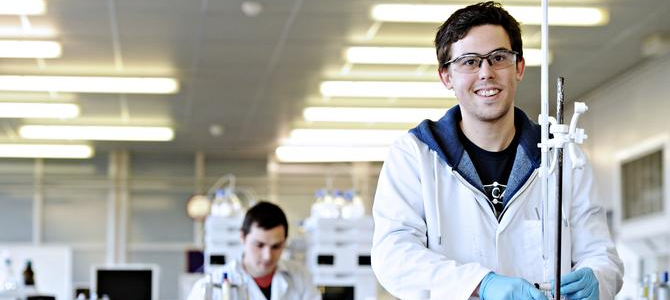 1st in UK for overall satisfaction in Chemistry - National Student Survey 2016

Ranked 3rd for Chemistry - The Guardian University League Table 2017
Chemistry powers many aspects of our lives, from the clean water we drink to the air we breathe. It is a vibrant and stimulating subject that has a huge impact on the world around us.
The chemical and pharmaceuticals industry is central to the modern world economy and plays a vital role in the creation of ground-breaking products that make our lives healthier, safer and more sustainable. In the UK, the industry employs over 200,000 highly-skilled people (many of them chemistry graduates) and has a turnover in excess of £50 billion. It is manufacturing's number one exporter. It is simple: future growth of the economy depends on the chemical industry and accomplished chemical graduates.
At Loughborough we aim to equip our chemistry students with a comprehensive range of transferable skills that ensure our graduates are always in high demand, not only in the chemical industry itself but in employment sectors such as education, the medical health sector and finance.
Our courses are orientated towards the practice of chemistry in the world outside the University. Master of Chemistry (MChem) undergraduate courses (4 year or 5 year sandwich) prepare students for research work in industry or a PhD research course. Our 3 year (or 4 year sandwich) BSc equips you for employment in chemistry, scientific and other sectors.
To learn more please visit the courses page here.
Find us on Social Media:



Facebook.com/lborouniversity


Twitter: @lborouniversity


Youtube: /user/lborouniversity


Instagram: lborouniversity