Our Students Say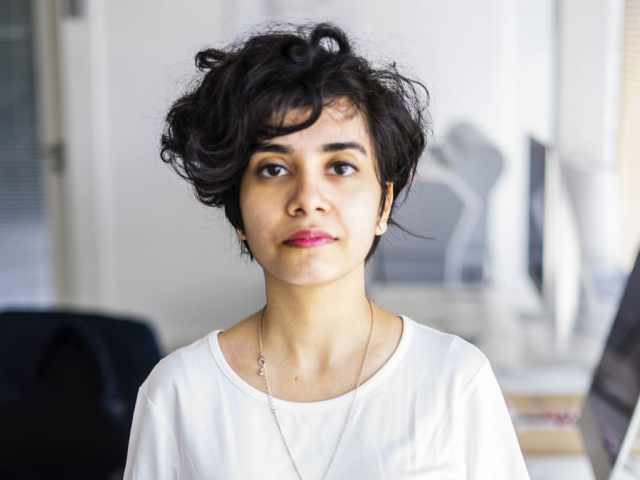 TASHITA MUKHERJEE STUDIES MA GRAPHIC DESIGN AND TELLS US ABOUT HER WORK AND STUDYING AT AUB.
"I'm from New Delhi, India. I had done my BA in Communication Design, and wasn't particularly happy with how it was taught. I had a friend in the UK, who said if I wanted to study design I should come here.
"I was looking for courses in the UK and came to know about AUB. I was researching, and met with an agent, and AUB was one of the recommended universities.
"It's been really great. Everyone is so open-minded about a lot of things. I don't have to restrict myself, if I want to convey a message or come up with new ideas.
"I'm doing my final project now, based on Visceral Emotions. We take a topic, and it's cut down to two parts, Masters One and Masters Two. Right now I'm doing my Masters Two project. It touches on the topics of functionality and aesthetics.
"At the moment, I'm looking at typography, as I hadn't done much of it before. It's something new, so I'm learning a lot. With this project, there's a lot of hands-on work and I'm making a lot of things, which is also something I haven't really done before.
"The MA Graphic Design is pretty cool, it's really nice. I'd definitely recommend it, and the Course Leader, Phil, is amazing.
"I'd like to get a job here, I hope for the best, but otherwise I'll go back to India and look for a design job there."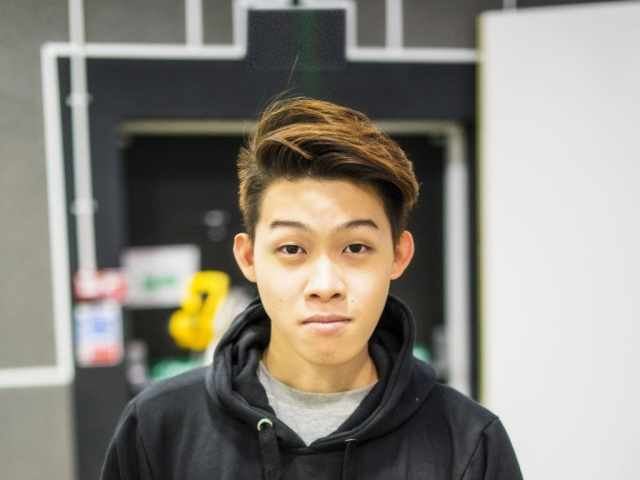 DARIUS CHEN KEONG SHU STUDIES MA FILM PRODUCTION, AND TELLS US MORE ABOUT THE COURSE AND HIS WORK.
"I'm from Kuala Lumpur, Malaysia. I chose to come to AUB as there weren't many film schools back in Malaysia. I really wanted to pursue Cinematography, and the MA Film Production specialises in that. I was looking for courses that provided that specific pathway.
"It's a very collaborative university, which is really interesting. Back in January I worked on a Hindi-English short film. The MA course is very diverse and international, which is nice.
"I've always wanted to see how the film industry works, and I get to experience this life. Back home, I was doing some freelance work and assisting. I also do some Fashion Photography on the side, which is nice. It's nice to see the collaboration across the university.
"I've chosen to do the cinematography for two short films with two different directors. I'm working on a short film called Narcissist Revisited, and in September I'm working on a Bollywood drama. We'll be shooting in India and the UK.
"I get to choose who I work with and who I'm comfortable working with. The directors approached me and working with them has been a good experience.
"Back home, I didn't have this kind of experience and campus life. We don't really have any art schools, so I'd recommend it."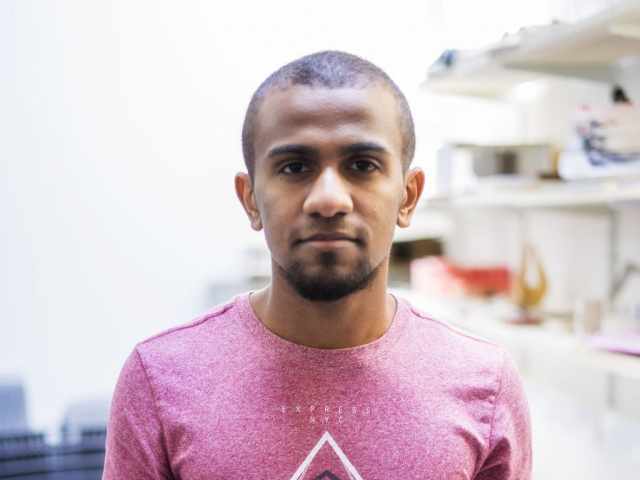 ABDULRAHMAN ALI H R AL-HARIB STUDIES MA ARCHITECTURE AT AUB. HE TELLS US MORE ABOUT HIS EXPERIENCE OF STUDYING ON CAMPUS.
"I'm from Qatar and studied for my BA in the USA. When I had finished, I looked at different art schools, I heard about AUB from a few friends at home. They said that the location was really nice, and to look at the curriculum and facilities.
I like the small scale of AUB. Everything is really close. In my first year we collaborated a but with BA Dance and Textiles. I'd be more inclined to go towards art schools than other universities.
I love the campus and the facilities. The students are very friendly too. I like the diversity of nationalities. There's people from Iran, Kuwait, Vietnam. It's a very mixed course.
The tutors are very helpful. You have one tutorial a week. The course pushes your professionalism and builds on the knowledge that you gain on the BA.
Of course, there's the history side of it too. It's really informative, we've been introduced to Greek History and mythology.
In terms of being from the Middle East, and the conflict there, it's nice being in the UK in a mixed cultural society and you get to see a different perspective.
I'm working on designing an exhibition. I'm trying to push this whole idea of crisis and rubble, and reading a lot of books about imaginary cities and architecture and war."
Video Testimonials
Yuheng - BA Film Production student from China on life at AUB
Niriksha - BA Interior Architecture student from India on life at AUB
Nicole from Oregon USA talking about her experiences on BA Costume & Performance Design at AUB
Find us on Social Media:

Facebook.com/inspiredAUB


Twitter: @inspiredAUB


Youtube: /user/inspiredAUB


Instagram: inspiredAUB