Master of Chiropractic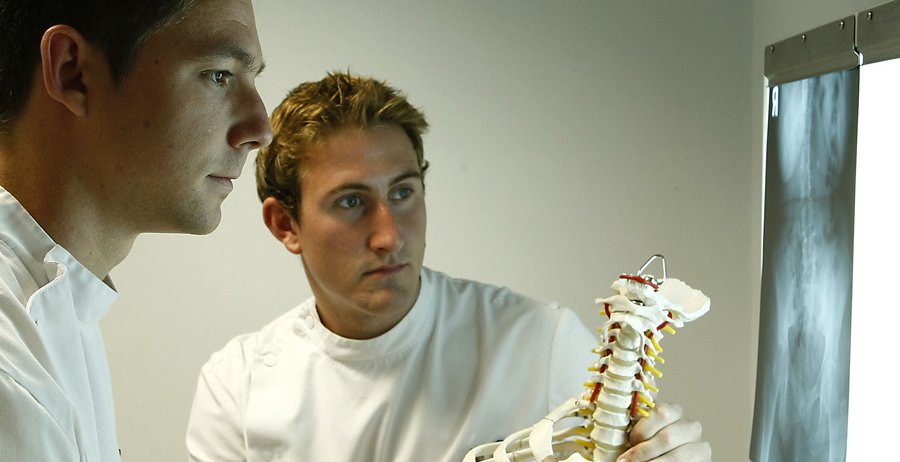 Are you looking for a degree that will improve your ability, confidence and employability in chiropractic? Our chiropractic training introduces aspects of clinical work from the start and carefully integrates this to reinforce your academic study. Your clinical expertise will develop, until you are able to work under supervision as a student clinician and provide chiropractic care at the Welsh Institute of Chiropractic outpatient clinic, which is based at the University. We were the first university in the UK to offer a fully integrated undergraduate Masters chiropractic degree that is accredited by both the General Chiropractic Council (GCC) and the European Council on Chiropractic Education (ECCE).
We have an excellent working relationship with the chiropractic profession and enjoy close links with the British Chiropractic Association and the Royal College of Chiropractors, as well as adhering to the clinical and professional chiropractic educational guidelines agreed by the European-South African Education Collaboration. For you, this means your learning is underpinned by best practice care and delivery in the chiropractic profession.
What you will study
On our Chiropractic degree you will study and understand the human body in health and disease, be able to identify abnormalities of human structure and function, and manage them through appropriate therapy.
Chiropractors focus on the diagnosis, treatment and prevention of problems – and the effects of these disorders on the functioning of the musculo-skeletal and nervous systems and general health.
Our Chiropractic degree also meets demanding international chiropractic educational standards and benefits from very advantageous funding arrangements for chiropractic students in the EU.
Modules
Year One
Normal Radiographic Anatomy
Foundations of Pathology
Chiropractic 1
Behavioural Science 1
Clinical Physiology 1
Clinical Anatomy 1
Analytical Methods and Biomechanics
Clinical Development in Chiropractic Year 1 (optional)
Year Two
Clinical Nutrition
Mental Health
Clinical Imaging 1
Physiology and Anatomy of the Nervous System
Pathology
Chiropractic 2
Clinical Physiology 2
Clinical Development in Chiropractic Year 2 (optional)
Year Three
Functional Management
Junior Clinic
Research Project 1
Clinical Imaging 2
Chiropractic 3
Clinical Neuro-orthopaedics
General Diagnosis and Clinical Specialities
Clinical Development in Chiropractic (optional)
Year Four
Evidence-Based Clinical Diagnosis and Practice
Research Project 2
Chiropractic Clinical Training
Contemporary Clinical and Professional Practice
Translating Evidence into Clinical Practice
Chiropractic Clinic
Clinical Development in Chiropractic Year 4
Teaching
Typically, students on our chiropractic degree will spend around 20 hours each week in lectures, practicals, tutorials, laboratory or clinical work, depending on the topic.
Assessment
A variety of assessment methods are used throughout each term, including short-answer in-class tests, practical tests, multiple-choice tests, group presentations and long-answer written tests.
Find us on Social Media:

Facebook.com/UniversityofSouthWales


Twitter: www.twitter.com/unisouthwales


YouTube: www.youtube.com/user/unisouthwales