King's College
King's College was Founded in 1946 by the priests and brothers of the Congregation of the Holy Cross from the University of Notre Dame. It is located in Wilkes-Barre, Pennsylvania. King's offers a Catholic education that will engage your mind and transform your heart while preparing you to make a difference in the world. Students describe King's as friendly and welcoming, with a supportive environment that is evident the moment you step on campus. Small class sizes and a caring faculty and staff create opportunities for a personalized education that spurs the passion to try new things, explore the world and pursue your dreams.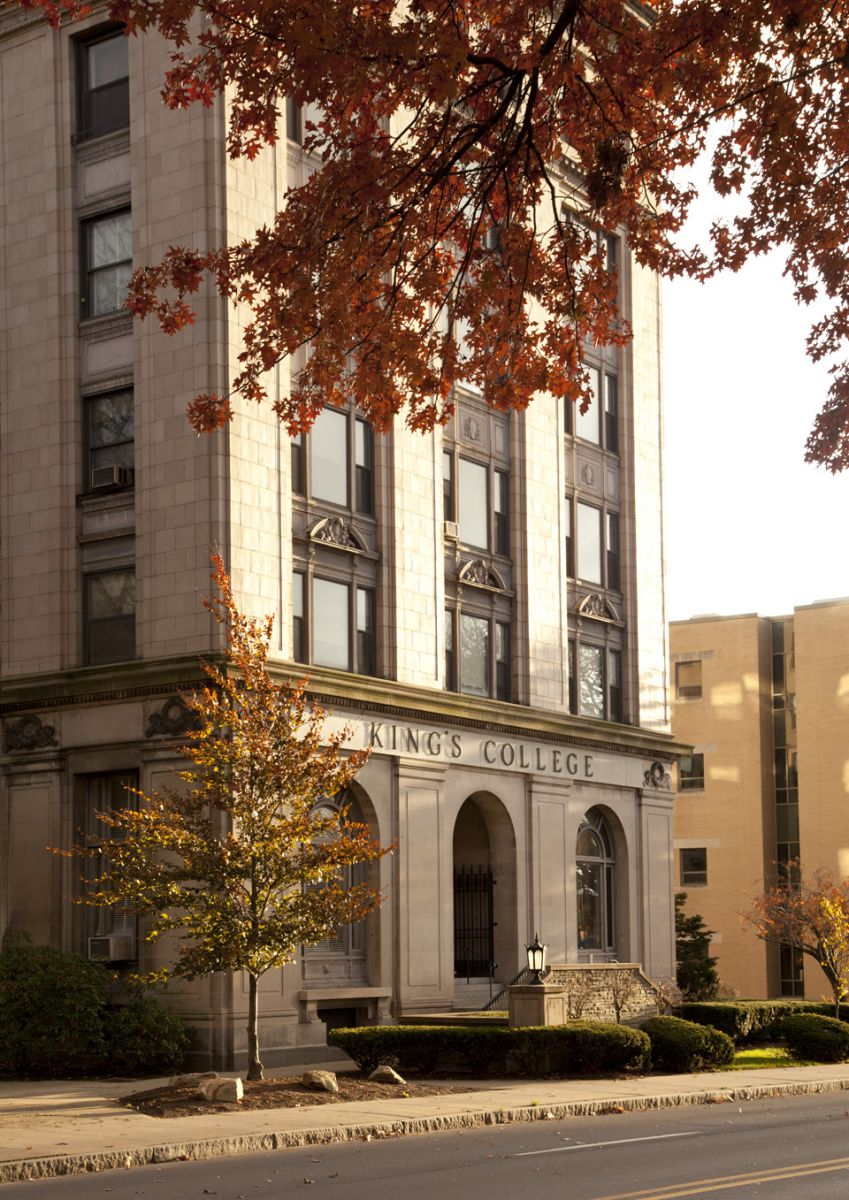 SAFE AND WELCOMING CAMPUS
You'll feel safe on our attractive campus that is also convenient: you can walk from your class in just five minutes. King's offer a variety of living arrangements from single rooms to apartments, all Wi-Fi accessible. Residence halls are secure, accessible only by student ID card or the desk attendant on duty. All of this, plus the beautiful surroundings and impressive facilities, make King's a comfortable home away from home.
PERSONAL ATTENTION
At King's, courses are taught by professors, not graduate assistants. King's professors really get to know their students. They go above and beyond to help students who show great promise in a particular area to succeed. If a student is struggling, the professors will reach out to find why. Our 12:1 student to faculty ratio means students have lots of opportunities to interact with faculty mentors, advisors and coaches. Labs and classes average only 18 students, giving you easy access to state-of-the-art facilities and technology that rival top research institutions.
A CARING COMMUNITY
From the minute you step foot on campus, you'll feel the positive energy as people say hello, offer directions and stop to talk. King's offers many resources to help you adjust to college life: International Admission team helps you navigate your arrival on campus. Our First Year Experience team helps you make the transition to college life a smooth one. International student academic advisor keep your interests front and center, guiding your coursework to help you succeed. The Academic Skills and Writing Centers offer you additional assistance. Residence hall advisors and our counselling center are available to provide non-academic support The Office of Campus Ministry provides a spiritual and supportive role in our students' lives, and the Office of College Diversity supports the identity of every student while promoting and celebrating a multicultural environment on campus.
Find us on social media:

Facebook.com/kingscollegepa


Twitter.com/KingsCollege_PA


YouTube.com/user/kingscollegepa