Students selecting a major in Finance will be awarded a Bachelor of Science in Business Administration (B.S.B.A.) degree under the program of study offered by the William G. McGowan School of Business. A minor in Finance is also available as a part of the William G. McGowan School of Business program of study.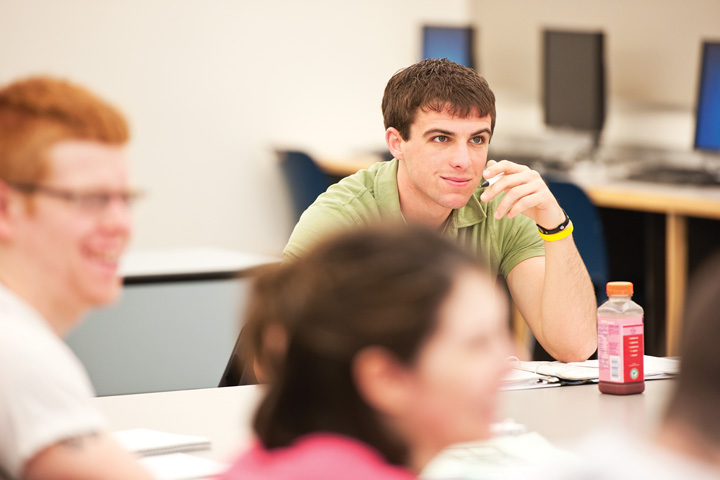 Finance is the art and science of the management of assets, especially money, and the raising of money through the issuance and sale of debt and/or equity. The finance curriculum is designed to provide students with knowledge of the major concepts and practices of financial management, while at the same time helping them to develop their analytical, decision making, and communication abilities. The globalization of business activities and availability of capital from sources around the world and the role it plays are incorporated into the Finance curriculum.
The college core curriculum, business courses, and major courses emphasize an awareness of personal values, character development, and an understanding of liberal learning competencies applied in a business context, such as communication, analytical thinking, team building, and strategic planning. Finance majors are required to take courses in the areas of Corporate Financial Management, Investments, and International Finance. These courses integrate economics, accounting, computer software applications and quantitative courses into a financial problem-solving, decision analysis framework, which is culminated with a case method capstone experience.
The influence and the responsibilities of financial executives have expanded dramatically in recent years. Financial officers are involved in the most profound decisions affecting the strategy of business operations. They are concerned not only with the pricing of products but with the initial decisions to produce them. Most aspects of business affairs ultimately reduce to dollar terms, and the financial officers' intimate knowledge of the intricacies of financial operations places them in a vital role in corporate management. Financial careers involve corporate financial management, personal financial planning, investment management and research, and risk management. Financial management involves the management and control of money and money related operations within a business. Financial management also refers to the financial input needed for general business decisions such as the adoption of investment projects and securing the funding for the projects. The role of finance includes the oversight responsibility for the effective use of money and financial assets by all decision makers in the business entity. Personal financial planners help individuals to create budgets, plan for retirement, and assist in determining the most appropriate investment vehicles for their clients.
Investment management and research span a large number of capital market functions, including trading securities, researching debt and equity issues, managing investment portfolios, assisting with mergers and acquisitions, and structuring new security issues. Risk managers use a wide variety of financial instruments, including financial derivatives, to limit the firm's exposure to adverse economic events like interest rate changes, foreign exchange fluctuations, and commodity price swings.
Finance majors are encouraged to sample widely in their selection of Core courses and from the elective offerings of the other divisions of the College with the conviction that an effective foundation for life-long learning and continuing professional development, in any career, is built upon the ideas and ideals of a liberal education. The emphasis on early interaction in engaging students to focus on the career development and planning process allows students the time and opportunity to: explore career options; identify academic majors and academic minors that fit their interest's values and abilities; engage in resume building experiences; and develop effective employment search skills which will result in successful placement upon graduation.
Degrees Offered:
Bachelor of Science in Business Administration (B.S.B.A.) with major in Finance
Finance minor
Find us on social media:

Facebook.com/kingscollegepa


Twitter.com/KingsCollege_PA


YouTube.com/user/kingscollegepa