Scholarships
International Foundation Scholarships
International students who successfully complete an International English Centre (IEC) International Foundation Certificate at the level required for their entry into their department at Aberystwyth University will receive a £2,000 a year reduction on Undergraduate tuition fees, up to a total of £6,000.
International Excellence Undergraduate Scholarships - £2,000 to £4,000 a year
Aberystwyth University offers 18 International Excellence Undergraduate Scholarships worth tuition fee discounts of £8,000 over the duration of a 3 year degree scheme available for international students applying to study a full degree.
In order to be considered, you must have applied to Aberystwyth by 30th June, and subsequently place us as your Firm choice of university. It is not necessary to apply for the Scholarship – all international applicants will automatically be considered. The Scholarships will be awarded based on academic achievement. If you are successful in obtaining a Scholarship, you will be informed before the start of term.
Pre-Masters Scholarships
International students who complete an IEC Pre-Masters course at the level required for entry onto their MA/MSc/LLM at Aberystwyth University will receive a scholarship in the form of a £1,500 reduction on their Masters fees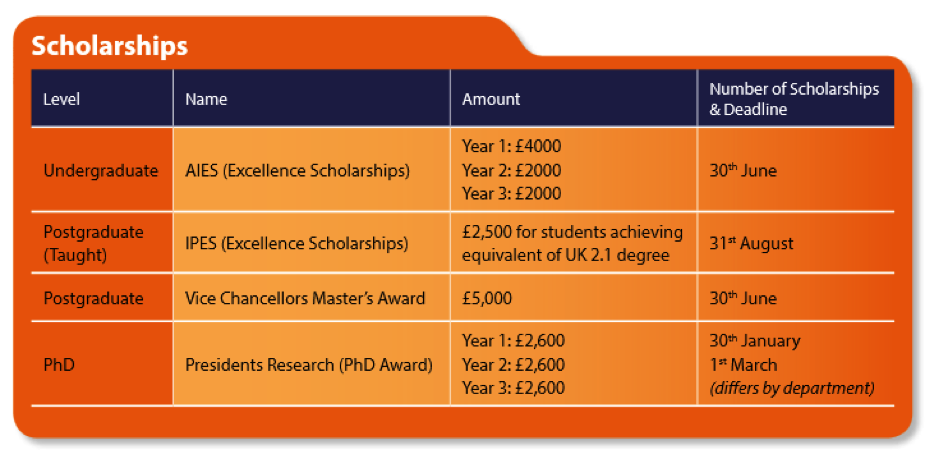 Find us on Social Media:



Facebook.com/AberystwythUniversityInternational


Twitter: www.twitter.com/AberUni_Intl


Youtube: www.youtube.com/user/AberystwythUni