Scholarships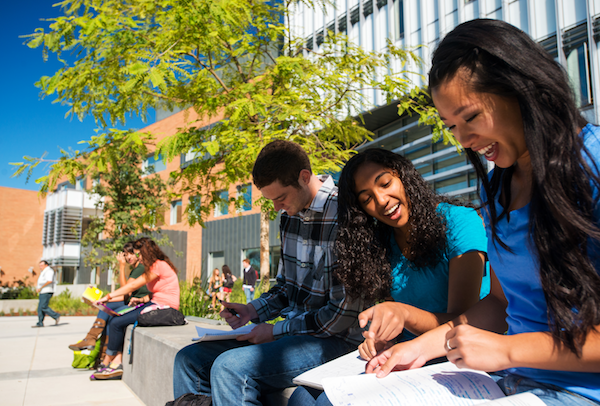 General Information
Scholarships are awarded each year. Criteria include financial need, scholastic achievement, participation in school activities, community service, honors and organizational affiliations, and educational objectives. Some scholarships have additional requirements which relate to a concentration or field of study, geographic origin, class level, and project or design portfolios.
Generally, a student must have at least a 3.0 grade point average. Both undergraduate and graduate students are considered for scholarships.
How to Apply
Cal Poly does not require a scholarship application for incoming students. All incoming students are automatically considered for scholarships for which they qualify. However, for need-based scholarships, completing the FAFSA (Free Application for Federal Student Aid) is required. For priority consideration for financial aid programs and Cal Poly scholarships, complete the FAFSA by March 2. Selection for scholarships is made based on information from the admission application and/or the FAFSA for new students.
Scholarships for continuing students are usually based on majors and are determined by the specific college or department. Continuing students should check in early spring with their department to find out if they are required to complete a separate application or if they will be considered automatically for any scholarships for which they qualify.
Scholarship Notifications
Scholarships are normally awarded during the spring and summer for the following academic year. During that time award notices are sent which include scholarship amount, disbursement and donor information. Recipients must be in good academic standing and maintain full-time enrollment while receiving a scholarship (continuing education and concurrent enrollment units are excluded).
If you are offered a Cal Poly Scholarship(s), by accepting you consent to giving information about yourself; including your name, contact information and academic history to the scholarship donor(s) and/or committee(s).
Consideration for scholarships may continue throughout the year. Recipients are required to thank their donor for the scholarship or award.
Scholarships are awarded for an academic year and are typically disbursed in quarterly increments. Non-attendance will result in cancellation or a pro-rated amount.
Cal Poly has almost 800 named scholarships in every college and almost every major. For a complete list of the scholarships, click on the link below:
Cal Poly Scholarships and Awards
Cal Poly could not provide the scholarships we do without the generosity of our donors. One of our earliest and most eccentric donors was Leopold Wrasse. Each year his legacy provides over 100 scholarships to students in the College of Agriculture, Food and Environmental Science. For his story, click here:
Notifying Cal Poly of Other Scholarships Received
Students are required to notify the Cal Poly Financial Aid Office of other scholarships received. Those scholarship awards must be coordinated with any other financial aid you are receiving at Cal Poly.
Processing outside scholarships
Researching Outside Scholarships
There are several free scholarship search engines available on the web. Never pay for a scholarship search service. Most of those same resources are available for free.
Outside Scholarships Bulletin Board
Below are tips to help your search:
A local college financial aid office, library, high school/college

counselor

or your major department.

The Financial Aid Office maintains an Outside Scholarship Bulletin Board (link above) which is updated weekly. Students are encouraged to check it frequently for outside scholarship opportunities.

Check bulletin boards in classrooms, hallways or outside your department office.

The Robert E. Kennedy Library at Cal Poly has an excellent reference department, including access to electronic services, for scholarship, grant and loan resources.

The Cal PolyCareer Resource Center provides access to additional scholarship directories.
Find us on Social Media:

Facebook.com/CaliforniaPolytechnic


Twitter: @CalPoly


Instagram: cal_poly/