PERFORMING arts degrees are consistently popular courses, and for many performers the need to entertain people develops at an early age. Before I started taking part in drama performances at school, I would present shows for my friends and family in our living room. I used to dress up as clown, and try to juggle fruit or make my parents laugh with jokes and funny noises. I had a paper theatre where I would create stories and give the stick-puppets different characters and voices. These moments were the beginning of my love for performance, and were the first steps towards my own Drama BA.
Any performing arts and drama course will allow you to explore different styles of performance, from naturalism to the Theatre of the Absurd. Drama degrees will teach you the fundamental skills for many aspects of performance, and set you up for a career in film, television and theatre. But there are also some very specialist degrees out there which explore aspects of performance in more depth, some of which use the tools from your childhood to create remarkable art and theatre. These degrees for slightly less common performance careers will teach the skills to specialise in some very interesting jobs.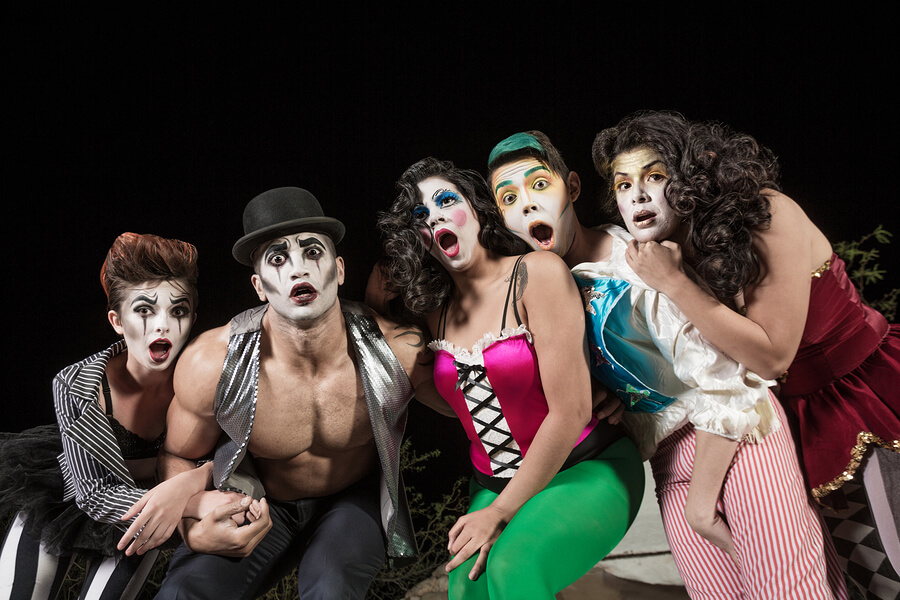 Mime artist
Mime is a visual and physical form of performance that has been around since Ancient Greece, and artists such as Marcel Marceau and Charlie Chaplin made comic mime popular on stage and film. Although the typical street-mime in France (with a white face and gloves, and a striped top) is perhaps the most recognisable, mime has been popular around the world. In India, Mukabhinaya is a form of music theatre that uses predominantly mime, and the silent Japanese Noh theatre has influenced contemporary mime. Practitioners such as Jacque Lecoq used mime to contribute to modern performance. It had fallen out of fashion, but it is now popular to mix traditional mime with more modern performance and art styles.
Although many drama degrees include aspects of mime, there are very few specialist mime degrees available. In Norway, there is a Mime Acting BA at the Stockholm Academy of Dramatic Arts, and in Germany you can take a Diploma in Mime at the MimeCentre in Cologne. Taking these degrees can lead to careers in mime, performance art, circus and theatre.
Puppet master
Puppetry is very often associated with children but it is an old art, and one which is starting to become more common in popular theatre. Plays such as War Horse in the National Theatre in London have used puppets to create creatures you cannot fit on a stage, and Broadway shows such as Avenue Q have made puppets very adult. The Czech Republic is famous for its puppet theatre, and The National Marionette Theatre in Prague is one of the most popular Czech theatre companies in the world. They produce plays such as Don Giovanni and The Magic Flute for adults and children. There are many different styles of puppet, including hand puppets, marionettes and stick puppets, and a specialist puppetry degree will go into much more detail than a drama course.
In the Czech Republic, there is an MA in Directing for Alternative and Puppet Theatre at the DAMU (The Academy of Performing Arts in Prague.) This course is taught by internationally renowned puppet theatre practitioners, such as Doc. Marek Beń?ka. Elsewhere, there is a Bachelors degree in Puppetry: Design and Performance at the Royal Central School of Speech and Drama in London, which looks at puppetry as a multi-disciplinary art form. In the USA, there is the Puppetry MA/MFA available at the University of Connecticut.
Circus performer
The circus has a complex history dating as far back as the Romans, when the emphasis was on the wild animals that would perform tricks and fight gladiators. In the 1700s, the famous Big Top circuses became popular and would tour towns. Clowns, jugglers and acrobats would all perform together in the circus tent to entertain people with performing arts. Today, contemporary circus is more often performed in theatres or stadiums and has re-popularised circus performance. The most famous contemporary circus troop is Cirque de Soleil. These contemporary circus acts tend to blend circus performance skills with traditional narrative and character development.
If you dream of running away to join the circus, there are several degrees available to train you. The Bachelors of Circus Arts at the National Institute of Circus Arts Australia combines intensive physical training with the history and theory of circus performance. In the Netherlands, the BA Circus and Performance Art at Fontys University of Applied Science is a four year course that will set performers up for jobs in variety shows, street performances, site-specific work, circus theatre, visual theatre, and even amusement parks.
Voice Actor
Voice actors will have a talent for creating different characters using their voice alone. The most recognisable voice acting jobs are on cartoons, video games, and radio, where actors will voice a scripted story. Ventriloquism and puppetry are also popular careers, both on stage and in film and TV. Other work that is less well-known (but more readily available) might include recording public announcements. For example, the recordings in train stations and airports will have been done by voice actors, as well as foreign language tuition audios, or over-dubbing on films and documentaries with a translation. Some voice actors might go into working as a dialect coach, where they will train other actors to speak in different accents.
For a course that is acting focused, the BFA Acting for Film, Television, Voice-overs and Commercials offered at Pace University in New York will help set an actor up for a career as a voice actor, with technique training and career advice. In London, the Voice Studies MA/MFA at the Central School of Speech and Drama is an intensive full-time course with a focus on voice and speech training. Graduates of the course have gone on to work as voice coaches and voice lecturers.