A SHORTAGE of money is often the main thing stopping talented students from studying abroad. But help is out there if you know where to find it. Follow our top tips on how to get that scholarship.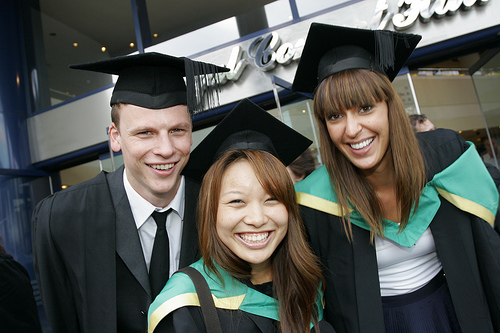 Graduates celebrate at Nottingham Trent University
Be ahead of the game
Scholarships are highly competitive and writing a successful application is hard work – so the earlier you start looking, preparing and applying the better.

Do your research
If you know the country where you want to study, start with a general internet search for scholarships in that country for students of your nationality. Scour the websites of your favourite universities and look for government-aided schemes in both your native country and the country you want to study in. Brazil, Saudi Arabia and Kuwait are among the governments that have recently expanded their scholarship programs, while the British Council in India has just launched an INR 100 million scholarship program for Indian students who want to study in the UK.
You may also find privately-awarded scholarships that match your chosen degree or other criteria such as your gender, language, religion, interests, financial need or society membership. Think about relevant employers, trusts, charities and research bodies and check their websites to see if they award scholarships. Scholarships come from a variety of sources. For example, one in five international students in the US is primarily funded by their college or university while 7% are funded by their home government, 1% by the US government and 2% by other sources in the student's host country.
Check the tuition fees and living costs at the universities you are interested in to check you can afford to go there, even with financial help.Approach university departments or school careers advisers directly.
Check the small print.
Scholarships may cover full tuition fees and living expenses or, more commonly, just part of the tuition fees. Some come with special conditions attached such as a clause stating that the student must work at a particular company or in a particular country after graduating.

Apply for lots
Competition is tough for scholarships so give yourself the best chances by applying to any scholarship program that matches your profile. It's also a good idea to find the lesser-known, smaller awards and competitions as the funds add up.

Sell yourself
The personal statement is the most important part of the application and is the best opportunity to highlight the skills and abilities that mark you out from the crowd. Check and double-check what the sponsor is looking for, then tailor your statement to those aims. Be passionate and positive and give specific examples of how your achievements have made a positive impact. Mention your voluntary work, work experience, awards and hobbies. Universities will want to know how you will contribute to the institution during your studies, while private scholarship sponsors might be more interested in your long-term potential and leadership abilities.
Have a good online profile
Remember that scholarship sponsors will probably google your name and try to find out more about you, so make a good impression.
Remove any embarrassing or offensive content from Facebook, Twitter or other social media outlets. And project a professional image, using channels such as Linkedin, Youtube, About.me and eLance. Read more tips about managing your personal brand.