Our Students Say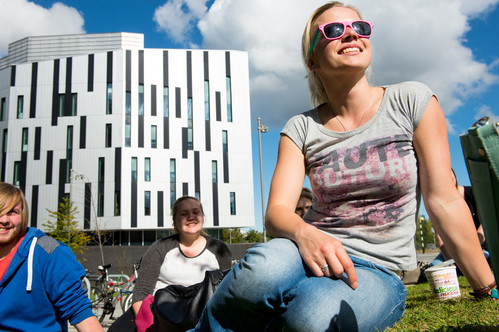 Below is just a taster of what some of our students say about us. We have lots more students talking about their experiences on our website.
Tosin Oye, from Nigeria
MSc Environmental Sustainability
"While studying for my undergraduate degree I developed a passion and an urge to work in the environment sector, especially in the area of sustainability. My dissertation is on sustainable radioactive waste disposal from an environmental perspective. It is a very relevant discipline as I discovered that radioactive waste is a major threat in terms of its long-term disposal. This is very relevant to Nigeria as well as Britain.

The lecturers at Edinburgh Napier are very, very good, especially our programme leader Celine Garnier. We have great discussions. All our course module leaders are easy to talk to and have a good rapport with the students. The course is quite taxing – you have to work hard and make your deadlines. You have to be very, very focused. The lecturers will encourage you and put you on the right path especially if you have difficulty in any particular area.

You get to mix with international students from all over the world, which is a privilege. The facilities are superb, really fantastic. The classrooms, the computers, access to the internet are all very good for learning. It's really welcoming and I can always recommend people to come here.

My twin brother Toyosi is also here studying for an MSc in Environmental Sustainability at Edinburgh Napier. He is enjoying it as well and we intend working together and having our own company in the future. In the meantime, we keep in touch with our family in Nigeria on Skype as they love seeing us."
Blessing Jha, from India
MSc Health Administration
"I started my academic year with MSc Health Administration at Edinburgh Napier University in September 2015. Although at the beginning, it seemed quite difficult due to the differences in the pattern of study in the UK when compared with the other academic studies I pursued in India and Russia. But I can say that it was not very tough to go along as there were tutors who provided guidelines for coursework and have guided with comments when needed. And the online library available on University website is really helpful while doing coursework or projects.
During my first trimester, I have developed more of critical thinking and remarkable skills of analysis and management relating to healthcare systems and other organisations. And these were the skills I was looking for in my masters and have learnt through this programme. After completing my first trimester successfully, I was looking forward to the exciting second trimester that would take me closer and build my dreams of a future career.
I count myself lucky to be a part of this University and I'm truly grateful to the tutors, students and staff members whom I met at the University for their help, interest and encouragement at that point, when it was needed. I would highly recommend this University to other students whether for undergraduate or postgraduate studies."
Hannah Parsons, from USA
MSc Heritage and Cultural Tourism Management
"I chose the MSc Heritage and Cultural Tourism Management because I knew I wanted to pursue a degree in tourism management, particularly one concerning cultural tourism. In the US this is an inclusive term, but in the UK the term heritage also gets used to discuss destinations of historical and symbolic significance. I also wanted to be sure that whatever masters programme I chose would enable me to pursue running my own business. I also wanted excellent instruction. One of my professors, Dr Anna Leask, is one of the world's top contributors regarding the management of UNESCO World Heritage Sites.
I knew that by attending the Heritage and Cultural Tourism Management programme at Napier I would be getting an education that would benefit my future career, and that the opportunities offered by Edinburgh Napier were something I wouldn't find at another university."
Zohra Iftikar, from Pakistan
MSc International Human Resource Management
"I worked in Pakistan before following my cousins to Edinburgh Napier. I'm studying the different approaches to human resources around the world alongside international colleagues.
I'm writing my dissertation about a company I worked for in Pakistan, where my father also worked. When he was working there, there was no proper HR department but when I started, HR was flourishing so I thought it would be a good idea to look at how it changed. My programme leader really liked the idea and said I should go ahead with it – I've even interviewed my father for it as an ex-employee and employees who are there now. It's an opportunity to compare approaches to HR in the West to those in the East.
I was mentally prepared for the cultural shock of moving here and I had a fair idea that the educational system would be quite different so I coped well. It's great that almost all my fellow students are international students. There are only 11 of us in the group and they are from countries like the Netherlands, Nigeria, Angola, Greece, and Poland.
The lecturers are very good and we've had interesting guest speakers. I've enjoyed every moment of studying here at Craiglockhart. I don't have to wait for anything – all the books have been readily available and the library staff are very helpful as well.
Edinburgh is nice. The first time I came here I was stopping every step of the way to look at the greenery and the scenery!"
Han Sumardi Ng, from Indonesia
MA Environmental Graphics
"I am studying the MA Environmental Graphics, the course is mostly about the use of graphics in public spaces. What made me interested in my course was that it gave me in-depth knowledge about graphic design and also provided various different classes that enrich my knowledge in the design field. Edinburgh Napier is the only university in Scotland that actually provides a masters design course within a year.
There is fair balance between theory and practical work on my programme. The professors always give a theoretical lecture before the tutorial class and the course always provides interesting workshops alongside the lecture based classes.
One of the things I love about studying at Edinburgh Napier is the facilities and help that is provided for my course. The design workshop is great, it's well equipped with 3D printing, laser cutting and various other pieces of equipment that really help in developing our projects. We are also given a personal and curated space in our masters studio, where we can complete our project work.
The lecturers at Edinburgh Napier are very knowledgeable about their subject area and give constructive feedback all the time. They always respond and reply to emails as fast as they can and some of the lecturers also allocate their time for you on the day they are not teaching to talk about the development of the project. The staff in the workshop are also very helpful, they give you a lot of guidance to work the equipment and tools.
Edinburgh is one of the most beautiful cities that I have ever been to. It's a very inspiring capital and never fails to impress, there is always something new to discover every day. On the top of that, Edinburgh is the home of the famous Fringe festival where people come from every corner of the world, and they have a beautiful Christmas market."
Find us on Social Media:


Facebook.com/ENUinternational


Twitter: @EdinburghNapier


Youtube: /user/EdinburghNapierUni


Instagram: EdinburghNapier