Innovation
Do you want to change the world? Our innovation courses will set you on your way. The innovators of the 21st century will bring together arts, science, engineering, humanities and enterprise to deliver innovative products, services and ways of living. They will be team players, with a breadth enabling them to work across specialisms and cultures. They will be designers and entrepreneurs – and have a passion for style, efficiency and sustainability.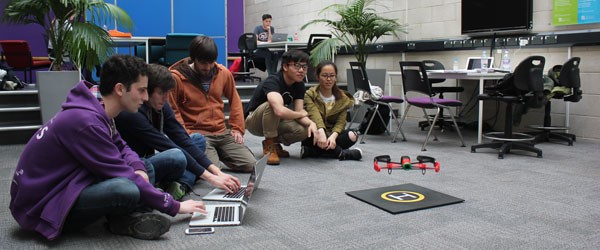 Bristol's innovation courses are for people who want to pursue their subject specialism in a way that enables them to apply it - to become innovators who can change the world.
Key Information
In the innovation courses, you will find out how to work with others who will bring their own specialisms, backgrounds and ways of thinking. You will learn how to design products and services, and you will work with external clients on projects they value. You will learn how to develop your own ideas, how to evaluate innovative solutions, how to put together the plans to pursue them and how to present them to others and gain support.
By the time you graduate you will have been involved in planning a venture. You will have learnt how to evaluate the potential of the venture and how to finance it. You will be supported in this by groups in the University and external partners who are at the forefront of innovation in areas including digital media, environment, sustainability, healthcare and education.
All the way through your course you will be able to draw on a network of advisers who are involved in starting up or investing in new ventures. If you are ready to start your own venture by the time you graduate they will be ready to support you
Employability/Careers
You will be able to proceed into careers requiring an honours course in your chosen specialism. However you will also be equipped to do much more: to innovate; to work in teams with people from different specialisms, backgrounds and cultures; and to create and implement entrepreneurial plans to take ideas forward. These skills are highly valued by all organisations, large or small, local or global.
You may graduate as a member of a new venture that you and your fellow students have created, or you may decide to join an existing one. Whatever you decide, you will be able to hit the ground running, building on your entrepreneurial and innovation experience.
Find us on Social Media:



Facebook.com/BristolUniversity


Twitter: @BristolUni


Youtube: /user/UniversityofBristol


Instagram: UniversityofBristol