WE were saddened to hear of the death of British actor Alan Rickman last week. Rickman was a strong supporter of further education, and drama schools in particular. He graduated from RADA (Royal Academy of Dramatic Art) in 1974 and he was elected a member of the RADA council in 1993 and the Development Board in 2015. He went on to become the Vice-Chancellor of the council, and was well known among the students, whom he visited and encouraged actively.
As a RADA graduate, Rickman was a famous actor on both stage and screen. He won a BAFTA award for his portrayal of the Sherriff of Nottingham in Robin Hood: Prince of Thieves, but he was perhaps most famous as Professor Severus Snape in the Harry Potter franchise. We have a look at some of the subjects Snape and his fellow staff taught at Hogwarts, and try to match them to their real-life counterparts.
Astronomy
During Astronomy, Hogwarts students study the heavenly bodies and the universe. This involves using telescopes to study the night skies and track the movements of the planets. It also involves knowing the names of starts and constellations.
Astronomy is in fact the only magical subject that is also a subject in our world as well, and is one of the oldest sciences. There are many different degrees relating to the study of the heavens. The Astronomy Bachelor's degree at Glasgow University uses high-tech telescopes, planetariums and observatories to study the solar system, the stars and other heavenly objects. The Astrophysics BSc offered at Cardiff University uses physical and mathematical concepts to interpret the universe. A Masters in Cosmology at the University of Sussex applies physics and mathematics to the workings of the universe at a higher level.
Ancient Runes
Ancient Runes is a theory-based subject that teaches how to translate ancient text. The runes of the Harry Potter universe are pictures used to represent words and meaning. The first years of study require learning ancient runes as a language. Part of the dictionary shows the symbols for numbers represented by animals that relate to that number – for example a unicorn means the number one.
The runic language taught at Hogwarts is specific to magic, but our world has counterpart runes that work in a similar way. Ancient Norse and Germanic languages used runes before they adopted the Latin alphabet. Viking, Norse and Anglo-Saxon course are available in many universities, particularly in Europe. UCL offers a BA Viking and Old Norse Studies that looks at the language and history of Scandinavia, with the third year spent in Norway, Denmark, Sweden or Iceland. The University of Cambridge teaches the Nordic languages from scratch in their Anglo-Saxon, Norse and Celtic BA. For postgrads, this Viking and Medieval Norse Studies MA at the University of Iceland would allow you to study runes alongside folklore, sagas and linguistics in one of the Norse countries. A similar MA is offered at the University of Nottingham, where the Viking and Anglo-Saxon Studies MA is open for those with backgrounds in history or literature.
Defence Against the Dark Arts
Defence Against the Dark Arts (DADA) was Professor Snape's favourite lesson, and it teaches young witches and wizards about the dangerous aspects of magic, including dangerous creatures, spells and wizards. It also teaches practical techniques for protecting yourself. This was the class that most students considered the most exciting, with practical elements and interesting stories as well as theory.
DADA is a varied subject, and there are many degrees that could be considered an equivalent. The short course at Malcaster College entitled Defense Against the Dark Arts in 2012 was a one-off, but other counterparts are harder to find. Harry Potter had ambitions of become an auror, the magical equivalent of police and special investigators, therefore this Criminology and Forensic Science BSc at Northumbria University would lead to a similar career. The course provides many practical, lab-based work as well as theory. The Psychology with Clinical Psychology BSc (hons) offered by Goldsmiths University London would allow you to study the darker aspects of the mind. For more practical crime fighting, a specialist degree in global and international defence, such as this MSc Defence Simulation and Modelling is a practical course that would enable someone to go into government or military jobs.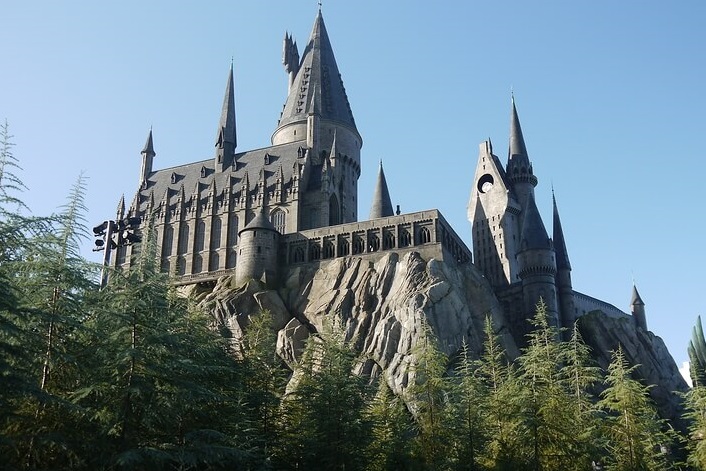 Herbology
In Herbology, students learn to care for and grown magical plants, as well as learn about their magical properties. They can then use them as ingredients for potions and medicine. Although the plants are more exciting and dangerous, it is quite clear that Herbology is the magical counterpart of botany and horticulture.
Horticulture would allow you to work with plants in aspects such as landscape design, food production, as well as looking at historical aspects such as cultivation and historical gardening. Courses like this Horticulture BSc at Worcester University are very practical, and can develop on amateur interest. Botany looks more at the properties of plants and their medical and scientific applications. The Bachelor Degree in Botany at The University of Maine teaches the biology of plants, biodiversity, and also looks at the evolution of plants. Some degrees, such as the Botany BSc at Webber University allows specialisms in microbiology.
Potions
Potions was the class taught by Professor Snape himself. The aim was to mix ingredients together in order to create potions with healing, enhancing and altering properties. Potions created by students or mentioned by characters include a sleeping potion, liquid luck potion, a potion to ease werewolf transformations, and potions to stop the effects of fire.
The immediate comparison with our world is the idea of cooking and following recipes (mixologists have in fact been inspired to create cocktails based on these potions). However, because of the effects of the potions, the subject seems to incline more towards medical employments. Chemistry and pharmacy subjects would be a good comparison. On the Pharmaceutical Chemistry BS course at Michigan Technological University, you would be using computers rather than wands, but you would start learning how to create new drugs and medicines. The Medicinal and Pharmaceutical Chemistry BSc (hons) course at Loughborough University is another good place to start learning about drug research and the magic of medicine. Masters degrees such as the Drug Discovery and Medicinal Chemistry MA at Birmingham University provide further training for those with a more general Chemistry bachelors.