FOR many graduates who studied Fine Art, the idea of making a living as an artist is the ultimate goal. Having studied for up to four years, the pursuit of recognition and fame is the next logical step for many. Over 18% of Fine Arts graduates are working as artists in the year after their degree. Some graduates, such as Bonnie Camplin and Nicole Wermers, might even find success in awards ceremonies like the Turner Prize, the most publicised arts award in the UK. Whilst the winner of the Turner Prize might get £25,000 for their work, for most Fine Art graduates their degree is still a fantastic way to start a career in a related discipline. These artistic career paths are another way to put that degree to good use.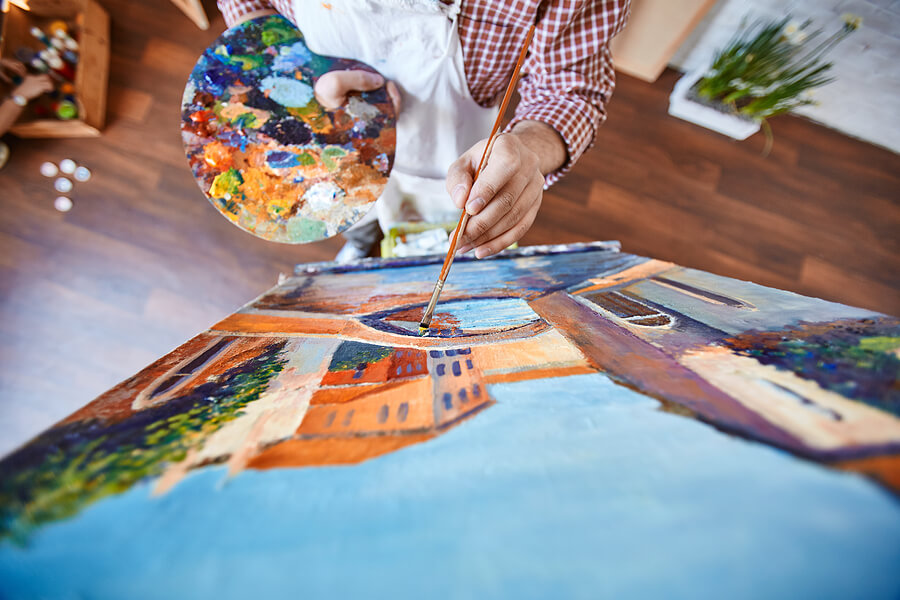 Art Conservator
An art conservator (sometimes called a museum or gallery conservator) uses scientific methods to preserve art pieces in a museum or gallery. A large part of the job is monitoring and controlling the environment of artwork, but there is also an element of restoration and even laboratory work. A conservator will use a variety of specialist equipment, such as dental tools or solvents, so it involves precision and a gentle touch. Art conservators tend to specialise in a particular media: Areas include ceramics and glass, paintings, furniture, or textiles. As there are so many different areas of art conservation, it is a good idea to gain some work experience by shadowing a practising conservator before studying or specialising. If you have a Fine Art degree, a postgraduate degree in arts conservation is required, and an A-level in Chemistry is occasionally needed for these courses. You can often specialise in a particular media during a Masters programme.
Years of extra training: 1 year plus
Starting salary: £26,500
Gallery Exhibitions Officer
A degree in fine art would give you the knowledge for a career as an exhibitions officer. An exhibitions officer runs and administrates events for galleries. The job involves researching, planning, organising and marketing events or exhibitions, which can include sourcing and working closely with artists. The role can vary greatly depending on the type and size of the organisation you work for, but a lot of the role involves liaising with internal and external departments, contractors and individuals. Working hours typically include weekend and evening work. For example, you might be setting up an exhibition during gallery closing hours or meeting with artists at the weekend. Although there is no specific training requirements, experience is expected even for entry level, so gaining this through volunteering or work experience is suggested. This may be easier at smaller galleries or museums.
Years of extra training: None
Starting salary: At least £19,000
Arts Therapist
Arts therapists use a variety of artistic techniques to help people to communicate or express their feelings. The use of a visual art medium can be particularly useful for those who might have a physical or emotional problem with expressing themselves verbally. The people they work with do not have to have artistic skill or experience – rather the art is used as a way of putting the client at ease and letting them explore their own thoughts and feelings. The therapist and client might talk about the artwork afterwards. Like all therapists, they have to be good communicators, and they might have to constructively challenge or suggest changes to their clients. The job might involve working in a number of settings including prisons, hospitals and schools. Further training is required, and an MA in arts therapy typically takes two years full time. Work would be available freelance and within organisations.
Years of extra training: 2 years plus
Starting Salary: £25,783 for an NHS entry level position
Artistic Blacksmith
A blacksmith shapes and joins metals to create both everyday and decorative items. It is a specialised profession, and as well as an artistic flare you will have to learn to work with a variety of tools and machinery. The work is physically demanding and can be dangerous – protective clothing is a necessity. Blacksmiths can be commissioned to work on a variety of decorative designs for individuals and companies. Famous examples can be seen on the gates to Shakespeare's Globe Theatre in London, and in the Lord of the Rings films. Some artists also offer workshops to novices as experience days. The majority of blacksmiths will learn through an apprenticeship or on-the-job training, but there are a few Fine Art degrees that already incorporate elements of blacksmithing. There are also a few MA courses in Metalwork, which focus on either conservation or artistry. Artistic blacksmiths tend to be self-employed and might sell their products as craft shows, galleries and fairs.
Years of extra training: At least a year
Starting salary: £12,000 plus
Want to know more about creative careers? Check out the jobs you can do with a photography degree, or alternative careers for drama graduates.