CAREERS in virtual reality development: what are your options? Designing the games emerging in the tech world would be a pretty cool job, right? Could it be feasible? How would you go about accessing this industry? This article looks into the options for a career in virtual reality development and suggests some useful resources for your research.
What is actually meant by the term "virtual reality"?
Virtual reality is the computer-generated simulation of a 3D image or environment that can be interacted with in a seemingly real way by a person using electronic equipment, such as a helmet with a screen inside. It is a sector that has exploded in the last five years and has a lot of investment and excitement around it.
Careers in virtual reality are also gaining in popularity and if you play your cards right you could enter into this exciting and fast-moving tech sector too. They're after creatives, artists, innovators, coders, computer nerds, news ideas and people with a bit of everything.
Where to start?
A degree in art/technology/design or maths and coding are all useful bases from which to launch yourself into a career in virtual reality development. An undergraduate or postgraduate degree in any of the above could be really helpful for getting your foot in the door, especially with big companies. The internet is full of useful resources that you can use to hone your skills and gain more specific experience in virtual reality beyond your degree (or to help you gain knowledge and experience if you haven't been to uni or your current education is unrelated).
Industry professional Steven Swanson, co-owner of Luma Pictures suggests following industry professionals on Twitter, commenting on and keeping up to date with blogs and joining virtual reality Facebook groups. He says that all of these steps can help you slowly pick up small tokens of industry advice and possibly lead to obtaining a job or work experience. Steven Swanson suggests following the following blogs and Youtube channels to learn more and gain the skills needed to make it in this industry: Road to VR, UploadVR, Youtube Virtual Reality and TEDtalks Virtual Reality.
In addition to this, large tech events such as the Virtual Reality Show in London which happens each April can be a really good way of learning more about the industry, networking and finding out about new trends.
The New York Film Academy suggest enrolling in a college or online course or workshop that focussing specifically in Virtual Reality coding, development or design depending on your interests. They also suggest choosing a programme and getting really familiar with it, they suggest Unity and Unreal as good places to start. Online tutorials such as this are available to help you get the most out of these programmes. Some US universities and websites have started offering FREE online courses in basic coding which is pretty awesome for anyone but especially useful if you want to access this industry and are coming at it from a design/art/gaming perspective, details about a few are available here and here.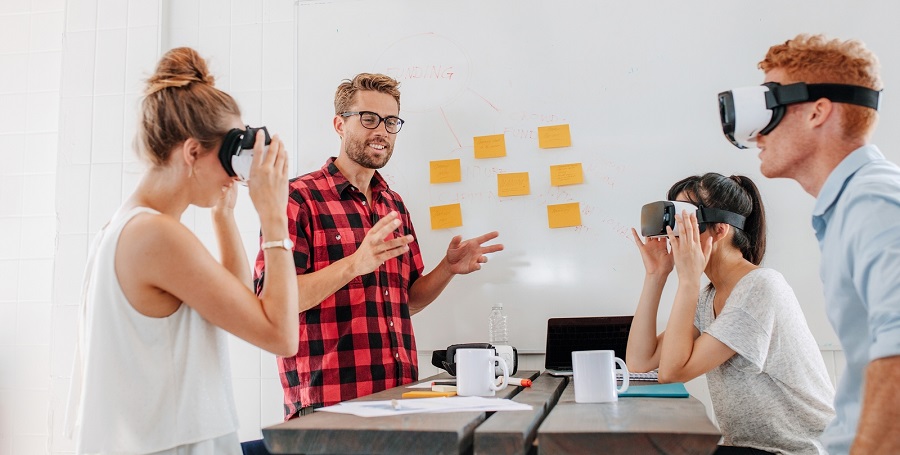 Work Experience
There is only so much online listening, watching and learning you can do before you will want and need to gain some real life experience! As with any career path but especially niche or creative ones, a lot of googling and a lot of handing out CV's may be the necessary way to get yourself a role. It may be that you take (if financially possible) a few weeks of unpaid work experience before then applying for entry-level paid positions in the industry. Here are a few UK companies emerging in the field that it could be worth writing to about work experience - Hammerhead, Virtalis, Improbable (Improbable actually have a formal graduate internship scheme!)
So if this has got you feeling like a career in virtual reality could be for you then great! Get reading, tweeting, learning, coding, designing, brainstorming and write to every VR company you can find and ask for some work experience and you could be well on your way to your dream techy, arty, forward-thinking job.