SEARCHING for your future study destination is difficult enough without having to decipher the jargon that comes with it! If you are looking into studying in the UK, this article explains just what you will want to know about the UK's prestigious Russell Group of universities.
What is a Russell Group University?
The Russell Group represents 24 universities located in the UK, which are committed to world-class research, have a reputation for teaching and learning excellence and are committed to strong associations with business and the public sector. These are University of Birmingham, University of Bristol, University of Cambridge, Cardiff University, Durham University, University of Edinburgh, University of Exeter, University of Glasgow, Imperial College London, King's College London, University of Leeds, University of Liverpool, London School of Economics and Political Science, University of Manchester, Newcastle University, University of Nottingham, University of Oxford, Queen Mary University of London, Queen's University Belfast, University of Sheffield, University of Southampton, University College London, University of Warwick, and the University of York.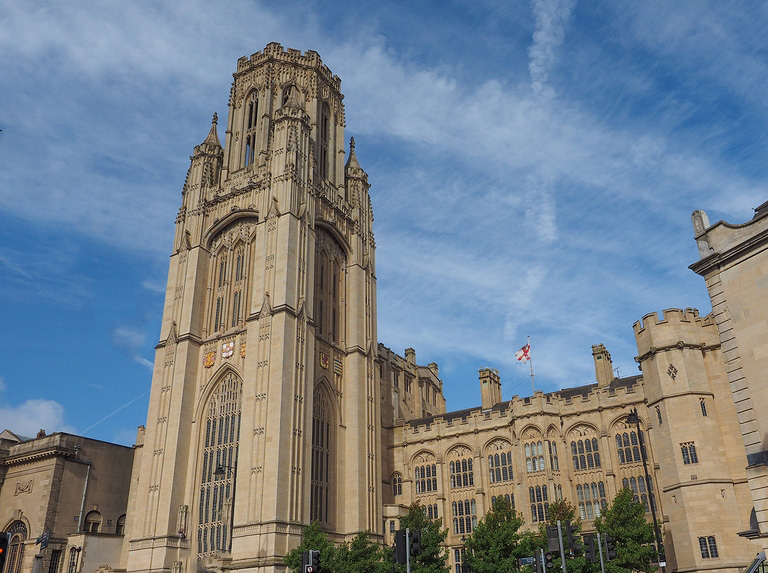 History of the Russell Group
Though the universities that make up the Russell Group have thousands of years of history between them, the Russell Group itself is a relatively new organisation. In 1994, the heads of 17 of the universities met at the Hotel Russell in London and in 2006 the Russell Group was officially established as a professional, incorporated organisation. The goal was to work together to provide leading strategy, policy development, intelligence, communications and advocacy support so that the universities could continue to offer world-class research and education.
Focus on research, education and relationships
Russell Group universities focus first and foremost on research. Although the 24 universities represent only 15% of higher education institutions in the UK, they consistently receive more than 70% of the funding available from UK charities, UK Research Councils and EU research grants. Given the available funding, it's no surprise that they also produce more than two-thirds of the total research conducted in the UK. In 2015-16, the universities combined were responsible for almost 50% of the total in intellectual property income generated by all universities in the UK. In addition to their success commercialising innovations, Russell Group universities have nurtured nearly 200 Nobel Prize-winning academics.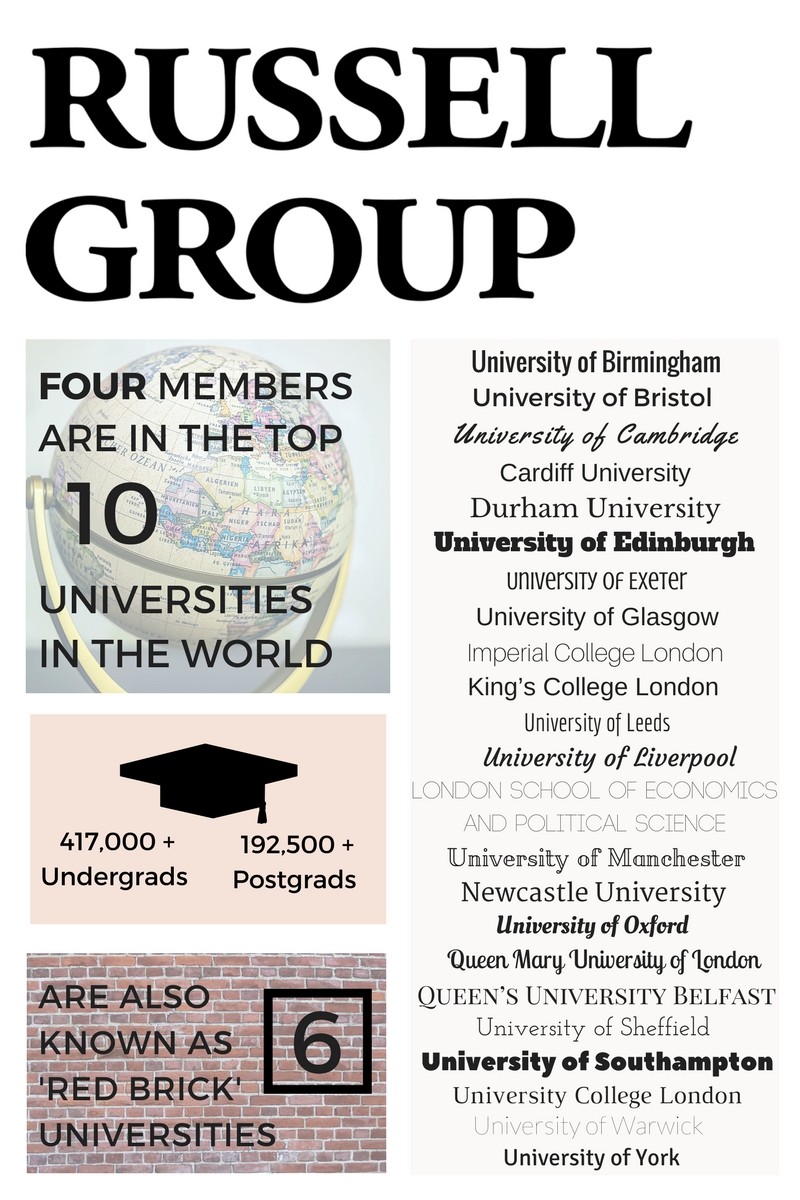 Quality education is a point of pride for the Russell Group universities. On average, each university offers more than 350 courses at the undergraduate level. The universities also boast small class sizes and a 7:1 student to academic staff ratio, compared to 14:1 at other universities in the UK. According to the QS World University Rankings for 2018, four Russell Group members are in the top 10 universities in the world, 15 are in the top 100 and all 24 are in the top 250. This is no wonder when the Russell Group invests millions of pounds on facilities and innovative teaching programmes; they spend an average of 25% more per student on academic services than other UK universities.
The Russell Group are driven to provide enriching experiences beyond student years. Alumni associations include prominent politicians, researchers, entrepreneurs and writers. The universities enter into research and commercial partnerships with small local businesses, medium-sized enterprises and multinational companies, producing more than 300,000 jobs across the UK and billions in economic output each year. They also collaborate with the public sector; Russell Group universities have worked with the NHS to educate over 80% of the UK's medical graduates.
Global student and academic staff appeal
In the 2015-16 academic year, the Russell Group universities were home to more than 417,000 undergraduates and 192,500 postgraduates. Of these, 21% of undergraduates were from outside the UK, while 47% of postgraduate students came from abroad to study in one of the 24 institutions. In addition to the high quality of education, the universities are UK Home Office trusted visa sponsors and provide support throughout the visa application process, making them highly appealing to international students. However, the international character of the universities isn't just limited to students. Approximately 39% of academic staff are from overseas, compared to an average of 23% at other UK universities.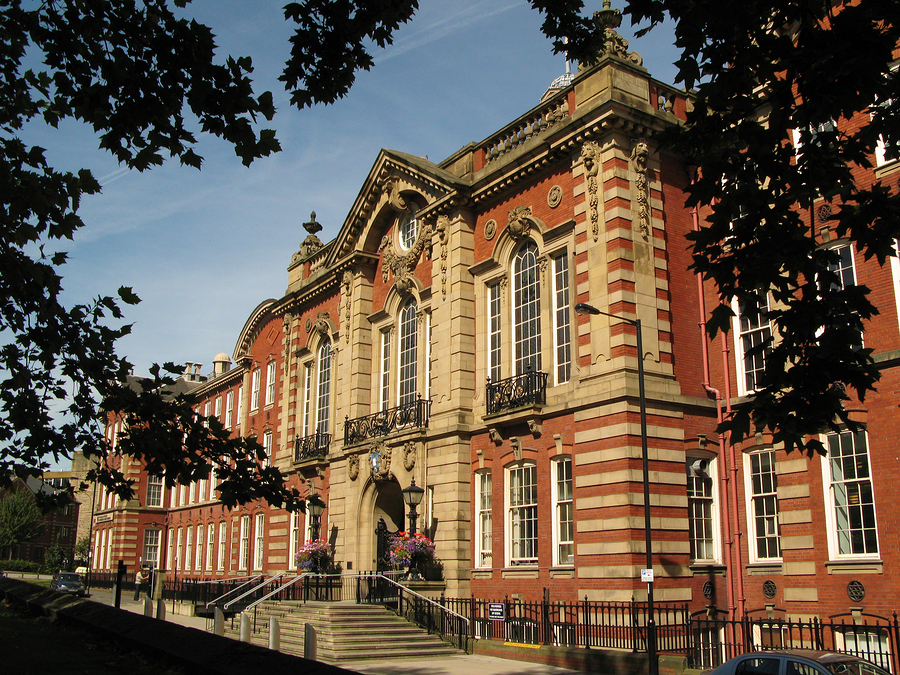 What are the Red Brick Universities?
Six of the Russell Group universities are known as Red Brick Universities. The term 'red brick' originally referred to civic universities founded in the 19th century. These were built in major industrial centres as a result of the increasing need for higher education in technical, science, design and engineering subjects. Though opinions differ as to how many universities are included under the term, 'red brick' is most often used to refer to the six institutions that achieved independent university status prior to the First World War: University of Birmingham, University of Bristol, University of Liverpool, University of Leeds, University of Manchester and University of Sheffield.