I'M GOING to go out on a limb here; Paris is not the best place to party (sorry Paris). It can boast the accolade of the most beautiful city in the world but number one party destination it is not. So the title of this article is a bit of a trap. What I will say though is that Paris has a great bar culture and a thriving arts and music scene. So you don't have to rule out any late-night debauchery quite yet.
You just have to go about it differently. Post-work socialising is dominated by bars and happy hours and after work, the French equivalent of Thirsty Thursday. Therefore, as your social life will be dominated pretty much by bars, I thought it would be best to give my recommendations of some of the best (on the whole, student-budget friendly!) bars in Paris.

L'Alimentation Générale
64 Rue Jean-Pierre Thimbaud, 75011
No, it's not a food store, L'Alimentation Générale is an all-in-one restaurant, bar and club in one of Paris' coolest neighbourhoods, Oberkampf and L'Alimentation Générale is the very definition of Parisian cool. It welcomes artists and DJs from all over the world as well as being the go-to place for later on in the night as it's one of the only places in the neighbourhood open until 5am. Therefore, make sure to get in early as space is limited and in much demand.
Le Bar Dix
10 Rue de l'Odéon, 75006
It's easy to miss but once you discover this tiny, dark, unsuspecting cove, you won't forget it. Order one thing and one thing only: Sangria. Depending on how big your group or how thirsty you are, you only need to order a small, medium or large jug and you're good to go!
Hideout Bar
11 Rue du Pot de Fer, 75005
Every city has to have an Irish bar and Paris is no exception. Hideout Bar, as dingy as it is, offers some pretty economical prices for drinks and a great atmosphere to boot. For a good, old-fashioned knees-up head to Hideout.

Rue Mouffetard, 75006
OK, so not a specific bar but Rue Mouffetard is a street full of cafés, restaurants and bars in the vibrant student neighbourhood, the Latin Quarter. It has something for everyone and if you schedule accordingly, you can time it so that you can make the most of the street's happy hours!
Le Truskel
12 Rue Feydeau, 75002
Known to welcome Franz Ferdinand, Bloc Party and Pete Doherty amongst others, this intimate bar often has free gigs on offer – great for the student budget. One for those who know their Yeah Yeah Yeahs from their Clap Your Hands Say Yeah.
Le Comptoir Général
80 Quai de Jemmapes 75010
I hate to use such a phrase but shabby chic is the only way to describe this place. An eccentric mish-mash of miscellaneous items under one roof with a Franco-African theme throughout, you can't help but see something new every time you visit. It's the worst-kept secret in Paris so be prepared to fight for your table on the weekend.
Wanderlust
32 Quai d'Austerlitz, 75013
Open throughout the summer, this outdoor club is not just for the night time, it also has creative workshops and yoga classes on throughout the day. Whilst the drink and food prices come at a premium, entrance is free so maybe fuel up before heading over?
Which reminds me, if you really want to party like a Parisian at a low price, the place to go is.....
The banks of the Seine
In the summertime, when the sun is out, the Parisians come out to play! Make sure to keep a corkscrew to hand, buy some wine, some snacks, grab some friends and soak up the ambiance to get a true insight into Parisian life. The banks come alive with activity, be prepared for impromptu buskers (some better than others), improvised dance classes and generally, a lovely, feel-good atmosphere. It is without doubt my favourite way to while the hours away in Paris.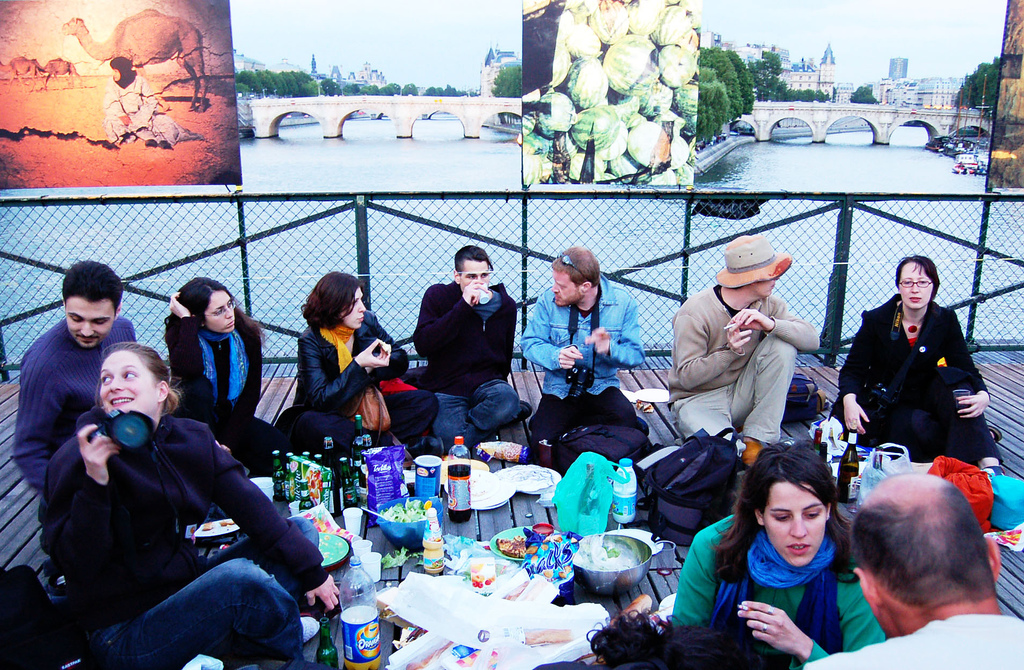 How do you party in Paris? Do you like the bar culture there? Tell us on Facebook or Twitter.