WHEN choosing a degree course, some people will decide with their heart and but many others feel they have to consider which course will lead to employment and a suitable career. In this battle, there are certain subjects, such as the STEM (science, technology, engineering and maths) and medical subjects, that often have words such as "safe" and "suitable" associated with them. The most popular undergraduate courses in America and the UK are consistently business or health subjects, and medical courses have the highest graduate employment levels of all degrees. But creative courses are often seen as "soft" options that can become "worthless" when seeking employment.
For anyone considering this route, this view is disheartening, to say the least. But are creative degrees actually any less employable?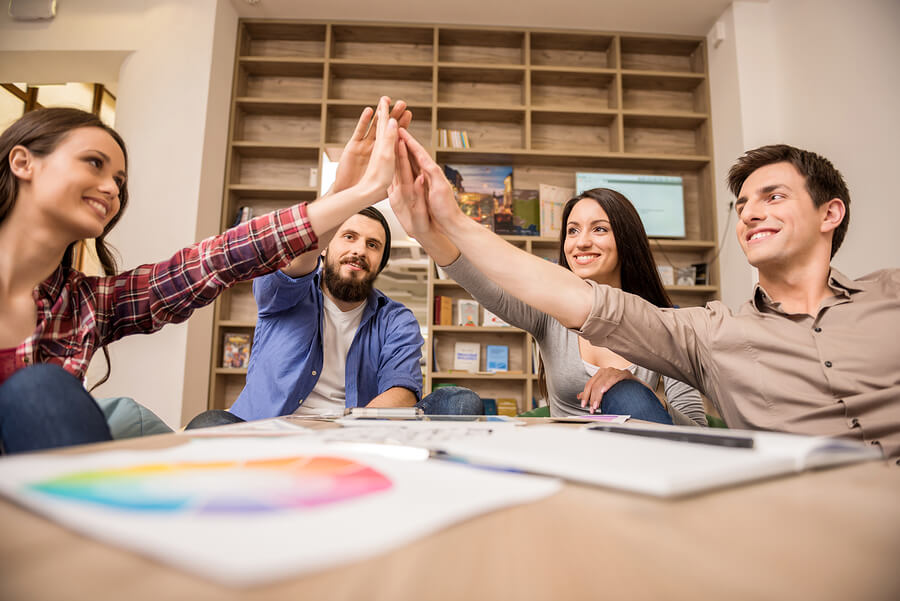 How is the creative industries sector doing?
In the UK, the creative and cultural sector is growing, and is currently the highest growth sector for total employment. Government statistics from the Creative Industries: Focus on Employment June 2015 show that there were 1.8 million creative industry jobs in the UK in 2014. This was an increase of nearly 16% since 2011, which is good news for graduates. The bigger companies employing more than 50 people are mostly located in London, and other big cities such as Manchester and Edinburgh. They more likely to provide specific graduate roles, and are the institutions you will know (such as the British Museum and Pinewood Studios in England) but they only account for 1% of the total creative and cultural businesses. These jobs are also very competitive. Elsewhere in the UK, small and medium-sized enterprises (SMEs) provide the majority of industry opportunities.
Creative graduate statistics
Most creative industry jobs are filled by those with a degree – over 1.09 million. This shows that even in a sector that is experience-focused, being a graduate still gives you an advantage. According to The Good University Guide, 51% of Art and Design graduates, and 42% of Dance, Drama and Cinematics graduates are in professional jobs within 6 months of graduation. This is actually more than subjects like Business and Management (50%) and Mathematics (40%.) And it seems that the outlook is just as optimistic in the USA. A 2011 survey by the Strategic National Arts Alumni Project (SNAAP) at Indiana University looked at 13,000 graduates of arts programs at American universities. Of those who wanted to work, 92% were in some form of employment, and almost three-quarters of those who wanted to work as a professional artist had done so at some point since graduating.
University-employer links
As the creative arts sector expands, those graduates employed in a professional job don't follow one route into the sector. Many arts and culture employers around the world have links to outside organisations, including universities. Prospective students should look for courses and universities that have practical experience and good ties with employers. These ties can come in the form of sandwich years, or internships that are part of the course, such as ones offered at the University of Derby and Nottingham Trent University. Other universities might be more known for providing once-in-a-lifetime projects, such as the collaboration between Croydon School of Art and Baby Cow Productions on the Alan Partridge Show. If you are already a student, it is worth speaking directly to your lecturers about such possibilities.
New routes into the industry
Established organisations are also actively reaching out in new way to creative industries graduates. Campaigns by charities, including The Creative Society, are trying to eliminate the culture of unpaid internships, which have limited graduate job options in the past. Arts organisations with paid internships funded by the Creative Employment Programme (CEP) are required to advertise positions at the local Jobcentre Plus, making the roles more accessible. Targeted projects, such as Sky Academy and BBC Ouch, are also addressing under-representation by recruiting specific ethnicities, genders or those with disabilities. And of course, new technology, social media and websites such as The Creative Industries and Hiive are making it easier for graduates to search for employment.
The self-employed option
The creative sector has historically had a large number of self-employed or freelance workers. Of the jobs in the UK, around 40 per cent of the total is classed under this category, compared with 12 per cent in the economy as a whole. The American SNAAP survey showed that 63 percent of arts alumni were self-employed artists. This option is not for everyone, mostly due to the lack of financial security, but working freelance can be very beneficial for creative graduates. It can allow creative freedom to work on projects you are more likely to enjoy. It adds variety to the role, and those who are self-employed often have a higher level of satisfaction. Many artists who have trouble finding freelance work find themselves setting up a business of their own. As with all self-propelled projects, it will be hard work (at least initially) but there is various help available for start-ups – both financial and advisory.
Expanding your horizons – working in a different sector
One of the most-cited reasons not to choose a creative degree is the fact that STEM subjects, Business and Law lead to steadier work and higher salaries. It is true that when it comes to new-graduate jobs, science, business or finance pays more than the creative industries (although according to this international survey, humanities and arts win out in the long run.) But a creative degree does not tie a graduate to the creative industries. In the USA and UK, businesses and technology companies are hiring more creative graduates due to a variety of transferable skills:
Creative graduates are creative. It may be obvious, but many overlook how useful this is for businesses. Creativity allows an employee to take a technical concept and look at it from a different point of view – and then translate the idea for a client or customer.
They are sensitive. Not about themselves, but to other people's emotions and ideas. This is useful in business management, communications and understanding the needs of the public.
They are confident. This is especially true of performing arts graduates, but creative degrees all encourage the idea that your opinions matter. Whether it's presentations, pitches or PR, confidence is essential.
They are good at justifying the choices they make. A final submission may have been a blank canvas, but the student would have had to provide an essay on why this was suitable to be given a grade.
The outlook
Those who are already studying creative degrees can be assured that the job options available to them on graduation are many. Indeed, the wide variety might be more daunting than no jobs! And if you are trying to decide between degrees, it is useful to know that creative courses are no more "worthless" than some of the "safe" options.
Get more ideas for creative career paths in our Creative Industries section, including advice on working in art, games design, fashion and more.