COLOMBIANS have a rough time. Thanks to the infamous drug wars that raged through the country in the 80s and 90s (and to a certain extent still rage), Colombians often have to defend their country to people who have never set foot there. Time and time again, the same misconceived assumptions crop up. So, to save yourself from any awkward social situations, here are the things you just shouldn't say to a Colombian.
1. "Wait, I thought Colombia was spelt with a U."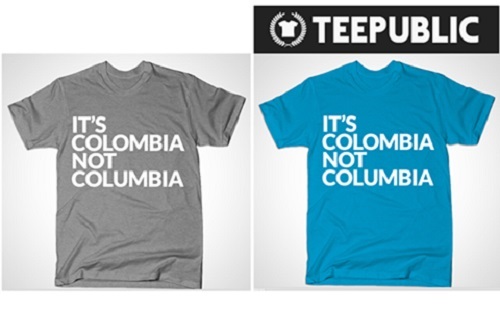 Wrong. That's the spelling for the North American Columbia ie. British ColUmbia or ColUmbia University in New York. And if there's one thing that irks a Colombian, it's the all-too-common misspelling of their dear country's name. That's why the social media campaign It's Colombia, NOT Columbia, by Bogotá-based digital agency Zemoga, has attracted 26,000 likes on Facebook. So next time remember, Columbia for the North American places, Colombia for the South American country.
2. "Oh my god, I love Shakira!"
OK, not exactly a social taboo but Shakira is not as popular as you may think in Colombia. Basically, some Colombians feel she has sold out to American pop culture and lost her authenticity. That's not to say she doesn't have fans in her home country but Shakira is far from being the people's princess.
3. "I can't dance."

The word 'can't' does not exist in a Colombian's vocabulary especially when it comes to dancing. Be prepared to learn salsa, merengue, cumbia, vallenato, even reggaeton. You are going to learn how to dance and sharpish.
And now the three big ones:
4. "Isn't Colombia dangerous?"
Colombia's reputation as a dangerous country is a sensitive subject and being one of the first things to roll off a foreigner's tongue is a painful thing for a Colombia to hear. Yes, there are certain places that are not advisable to visit but for the average Colombian and tourist, in the majority of places, you shouldn't come into harm's way. Far from it in fact.
5. "So Pablo Escobar, what you think about him?"
It drives Colombians up the wall that the world's most infamous criminal also turns out to be Colombia's most famous person. Especially when you consider that Colombia has also produced talent such as Nobel Prize-winning novellist Gabriel Garcia Marquez, footballers Radamel Falcao and James Rodriguez, musician Juanes and actress Sofía Vergara. That's not to say to that Escobar doesn't have supporters but it's definitely a case of letting Colombians open up to you rather than you putting them in a corner about it.
6. "Got any coke?"
Considering cocaine, or at least the narcotrafficking and revenue from it, has been the root cause of a lot of Colombia's recent problems, to ask for cocaine from a Colombian is effectively an insult. Be responsible and stay away from it. There are plenty of other (legal) ways to have fun, especially in Colombia - dancing salsa being just one of them!
And finally...
Here are some things that ARE worth talking to a Colombian about:
Colombia's happiness - Colombians are the happiest people on earth according to a poll of 54 countries.
Colombia's megadiversity - it has more plant and animal species per square kilometre than anywhere else on earth - even Brazil!
Colombia's beautiful beaches, mountains, rainforest, desert and rivers. (The Caño Cristales river is so colourful it's described as the Liquid Rainbow).
Colombia's relatively robust democracy, its transparent elections and protection of civil liberties
Colombia's growing economy - including its coffee, emerald and fashion industries (Medellin is the Milan of South America).
Colombia's football team who made it through to the quarter finals of the World Cup 2014
Colombia's amazing cycle network and the fact that traffic is banned from the main streets of Bogotá and Medellin every Sunday morning so that cyclists, walkers, runners and skaters can exercise freely.
Colombia's superstars - Nobel Prize-winning novellist Gabriel Garcia Marquez, footballers Radamel Falcao and James Rodriguez, popstar Juanes and actress Sofía Vergara.
Colombia's festivals - which include the second biggest carnival on the planet.
Brevas con arequipe - Look it up! Yum!