Hi, my name is Michelle Chang. Go Bears! I am an exchange student from New Zealand. Go Bears! How was your day? Go Bears! Can you tell me where Upper Sproul Plaza is? Go Bears! Ah, does that mean it is up that way? Go Bears! Okay then... Go Bears!
It has already been a week at the University of California, Berkeley and the cry of "Go Bears!" continues to ring loudly in my ear canals and sometimes, only occasionally, seem to slide its way out of my own mouth. Oski the bear is the official mascot of UC Berkeley and makes students (especially those on sports teams) are said to be sons of the golden bear.
If Berkeley didn't have anything going for them, at least I can vouch for their genuine enthusiasm about the school.
However, the truth is that the University of California, Berkeley (locally known as Cal), has many things going for it. And no event displays the culmination of Cal's assets than the jam-packed orientation week that took place over the last seven days. Whether you need to "Get your bearings", charge your brain with some "Bear facts", sign up for classes on "telebears" or simply chant the famous "Go Bears" alongside the almost 37000 other proud Cal students during the week of sunshine and freebies, Cal's orientation week is a time that these realities can be fulfilled. (It is also a time where the university's fetish for the word "bear" is used in shamelessly punny ways to draw the students into the happenings of the school) As an EAP (Exchange Abroad Program) student, I unapologetically attended as many events as possible. Following is a list of most of these events as well as some mandatory events and formalities that I had to sort out once I got to Berkeley.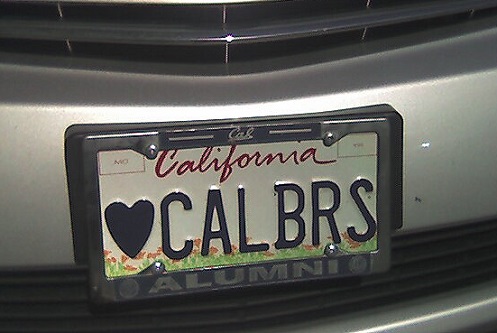 Move-in Day + Document Check| 21st August 3pm | @Ihouse
So Thursday the 21st of August marked the first day that I had ever stepped foot on the much talked about land of America. After composing myself from the 11 hour flight, I took Super Shuttle from SFO to my accommodation: The International House (also known as ihouse). The move-in day for most university owned accommodation was the weekend following the ihouse moving day. However, the almost 600 residences of ihouse made the day a hectic afternoon of boxes, suitcases and human bodies being tossed around the building that was to be my home for the next 4 months. Before being given the keys to my room, I had to also attend a Document Check that fortunately happened to take place at ihouse. The Document Check required my passport, visa and DS-2019 form. By the end of the day, all I wanted was to close my eyes and dream about a land where the presence of a document was illegal.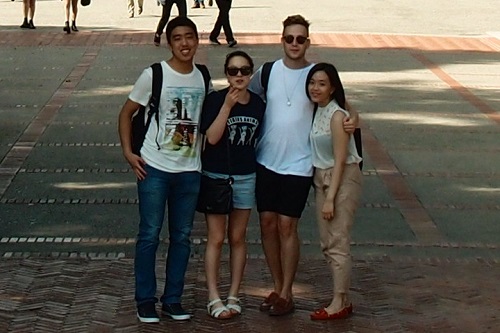 EAP Orientation Day | 22nd August 8am-3pm | @Ihouse
The next day was an orientation day just for EAP (Exchange Abroad Program) students. About 400 exchange students from about 30 different countries around the world gathered at the ihouse hall room at 8am. Breakfast and coffee was provided and the day commenced with talks from different faculty members of the university as well as some short presentations from the campus police and previous EAP students. In addition to the talks and free breakfast, they also enticed (but mainly overfeed us) with ice cream and waffle cones. It was a long day, filled with continuous socializing and the perpetual addition of "bears" in almost every sentence of a presentation. However, it was also a valuable time for making quick friendships with other exchange students and just having a generally informative day about the culture and university that we had all gotten ourselves into.
Formalities of Transition | Several Days | @EntireBerkeleyCampus
For me, writing to-do lists is a form of ultimate therapy. It is a personal sport. However, moving into a completely new city/country/university meant that my 'list' had somehow transformed into a disgustingly gargantuan creature of the deep land of unwanted aesthetics. I had to conquer it. And I had the weekend to complete the task. My list creature consisted of the following:
- Get my Cal student ID plus the bus sticker to put onto the ID card. This is a fundamental step to the transition into the university and will also allow you access to free transportation around the city. You also need your ID card to apply for the $10 gym membership at the university.
- Create a local bank account. Carrying around cash in the thousands is not the safest thing to do in America. Which is why creating a bank account was a high priority. I went with the Bank of America (which has a office and ATMs on campus) but another popular bank is Wells Fargo. Either one, don't forget to bring your passport to fill out the documents at the bank.
- Enroll in classes on telebears and create your schedule through schedulebuilder. This is a step that I did before arriving to the country. However, I remembered to double check on the classes that I was either on the waiting list for, or wanted to change due to timetable clashes once I got to Berkeley.
- Campus tour. While there were a few guided campus tours available, they all seemed to take place before I had arrived into the country. Therefore I took it upon myself to take a campus tour with a few friends I had met in the last few days. I visited the buildings where I would have my classes and also the general structures of the campus including the RSF (the gym), the Doe Library, the Campanile and Sather Gate.
- Sim card and phone plan. Keeping in touch with people and collecting contact details became a religious ritual over the last week and it was essential for me to get a Sim card for my iPhone as well as buy a phone plan with a local phone company to continue with the practice. I went with T-mobile and purchased a $39 per month deal that included unlimited data, international calls to home phone numbers as well as unlimited global texts. The plan was a bit pricey but I am aiming to try it out for a month and see if I need all the perks of the deal before I choose the cheaper package. Also, if I were to get another Sim card, I would probably choose another company such as AT&T because I have heard that other companies have better service that the notoriously weak T-mobile.
Frat Parties | Several Nights | @FratHousesonFratLane
A fundamental part of orientation week is that it is the sole time for students to over socialize quite shamelessly due to lack of structure before classes began. And it is the houses of Greek life that notoriously host the best parties on campus. By word of ear and a few drinks, I began to find myself standing at the backyard of random fraternity houses on multiple nights staring at the extremely film-like reality of red cups, beer pong, people walking on rooftops and leaning over banisters.
Faculty Orientation | Various Dates | @WursterBuilding
As a student of the faculty of architecture at Cal, I was invited to attend quite a lot of events garnered towards exchange or transfer students studying architecture. The faculty was wonderful in providing events to welcome us all into their 'family' and it was a great time to meet professors, fellow students, learn about the workings of the faculty and eat free food. These events differ greatly for each faculty but I can attain to the fact that the CED (Center for Environmental Design) at Berkeley does it quite well.
Caltopia, Calapalooza and Various Club Stands| Various Dates | @EntireBerkeleyCampus
Oh Cal. You have a way with words. Orientation week is an efficient platform for clubs and sports teams to get their name and group out into the student body. And what better way to do this than advertise the club expos under fascinatingly incomprehensible names such as Caltopia and Calapalooza. The first of the two, Caltopia, took place at the RSF (the university gym) on Sunday the 24th of August and Monday the 25th of August. Advertised as "The Two Greatest Days on Planet Earth" the event mainly featured sports clubs and free food. My friends and I took advantage of all the free food but also signed up for various clubs such as the boxing and sailing club. Calapalooza on the other hand took place a few days after Caltopia and was the event to host all the other clubs on campus that didn't have a stand at Caltopia. In this event, I decided to join the CHAOS club (an outdoor adventure club), an environmental club as well as a few journals including the art journal and the general university journal. Berkeley offers a buffet of choices in terms of clubs and groups. It is extremely difficult to decide which ones to pick and it feels like I have been invited to a banquet only to be allowed to try one dish! However, make the most of these events. There are also a lot of free trials for clubs and teams so make sure to go to these as well.
Well, that was quite tedious. But I hope you found it helpful. (Or at the very least, amusing!) It is one thing to enter a foreign country on your own. Yet, to settle into a university lifestyle in a foreign country at an age where you still refuse to believe that 'adult' is a suitable word to describe your state in life is an entirely new thing all together. And while I have experienced an extremely diverse rainbow of emotions over the last few days, I would not trade the past week for bearly anything. May the spirit of the Cal bear be with you till my next post.