IF you are moving to a new city for your studies, one of your criteria should be to fall in love with the place at first sight. After all, you will be spending the next few years of your life there, so you will want to live somewhere that is beautiful in every season and weather. When you are in the middle of coursework and exams, a gorgeous view will never fail to boost your mood. Whether you are studying long-term or just visiting, these top student cities are sure to inspire all admirers of art and architecture.
1. Barcelona
Barcelona, as well as having great football team, has a rich cultural heritage. The capital city of the Catalonia region, it also one of the most beautiful cities in Spain. Walking down the streets feels like walking through an art gallery, and many of the famous buildings are classed as UNESCO Wold Heritage Sites. The Gothic Quarter is a labyrinth of buildings and squares that date back to medieval times. Elsewhere in the city, you can see the nature-inspired work of the architects Antoni Gaudi and Lluís Domènech i Montaner. Buildings such as the colourful Casa Batllo (aka The House of Bones) and the Palau de la Música Catalana music hall are breathtakingly unique. The sixty-eight parks and the beach are just a bonus!
Universities in Barcelona: Polytechnic University of Catalonia; Pompeu Fabra University; University of Barcelona; Abat Oliba CEU University; International University of Catalonia; Ramon Llull University; European University Barcelona.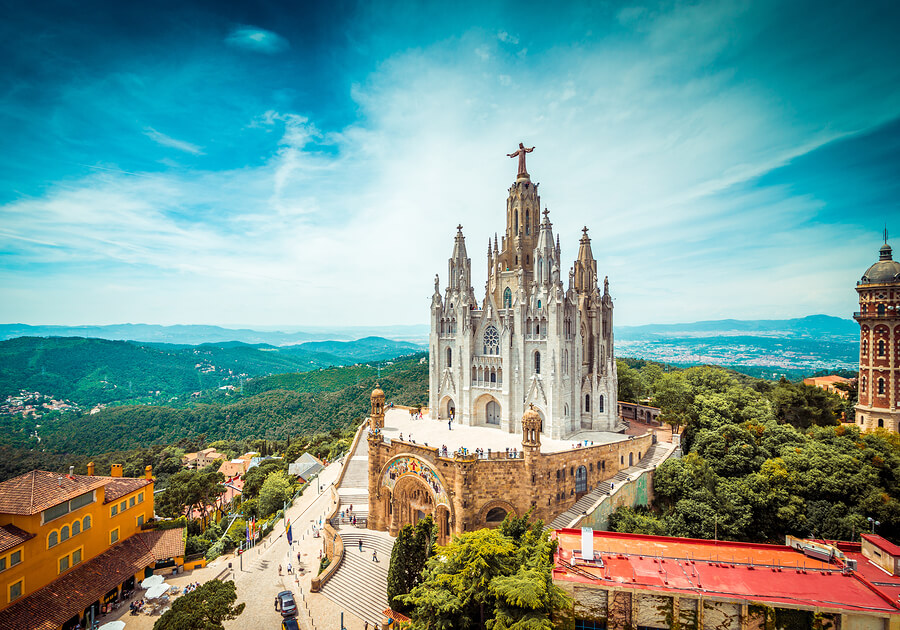 2. Kyoto
Located in the centre of the main island, Kyoto was the capital city of Japan for over a thousand years, and is still known as 'The Thousand-year Capital.' Kyoto was relatively untouched by bombing during WW2, and as a result, it retains more historic sites and traditional buildings than any other Japanese city. The wooden townhouses, known as machiya, still line the streets, and there are over 2000 beautiful temples, shrines, palaces and gardens that cover the city: Kinkaku-ji, (the Temple of the Golden Pavilion) and the famous Ryōan-ji rock garden are just two of the seventeen World Heritage Sites. Kyoto is also the centre of the Japanese television and film industry, and many films feature its picturesque buildings and parks.
Universities in Kyoto: Kyoto Institute of Technology; Kyoto University; Kyoto University of Education.
3. Istanbul
The French poet Alphonse de Lamartin said 'If one had but a single glance to give the world, one should gaze on Istanbul'. Istanbul was the capital of both the Byzantium and Ottoman Empires, and it is still considered the cultural capital of Turkey. The Sultanahmet, or Blue Mosque, is famous for the blue glazed tiles used in the interior decoration. One of the most impressive churches in the city is the Hagia Sophia, or Church of the Divine Wisdom. Built in the 6th Century, the wide, flat dome was a daring feat of engineering when it was built and is still impressive for visitors today. Such a variety of religious art and architecture is a result of Istanbul's uniqueness as a religious centre for both Christianity and Islam.
Universities in Istanbul: Istanbul Bilgi University; Ozyegin University; Okan University; Sabanci University.
4. St Petersburg
St Petersburg is the second largest city in Russia and it has one of the largest art museums in the world, the Hermitage. This large complex of six historic buildings includes the famous Winter Palace, a former residence of Russian emperors. Sitting right next to the Griboedov Canal, the iconic Church of the Saviour on Spilled Blood is another memorable site, with its richly decorated onion domes on the roof, and over 7500 square meters of colourful mosaics. The golden dome of Saint Isaac's Cathedral dominates the city skyline, whilst Palace Square is a vast space with a number of beautiful buildings around it. It has also been host to concerts from bands such as the Rolling Stones and Elton John!
Universities in St Petersburg: Saint Petersburg State University; Institute of International Economic Relations, Economics and Law; Saint Petersburg Polytechnical University; Herzen University.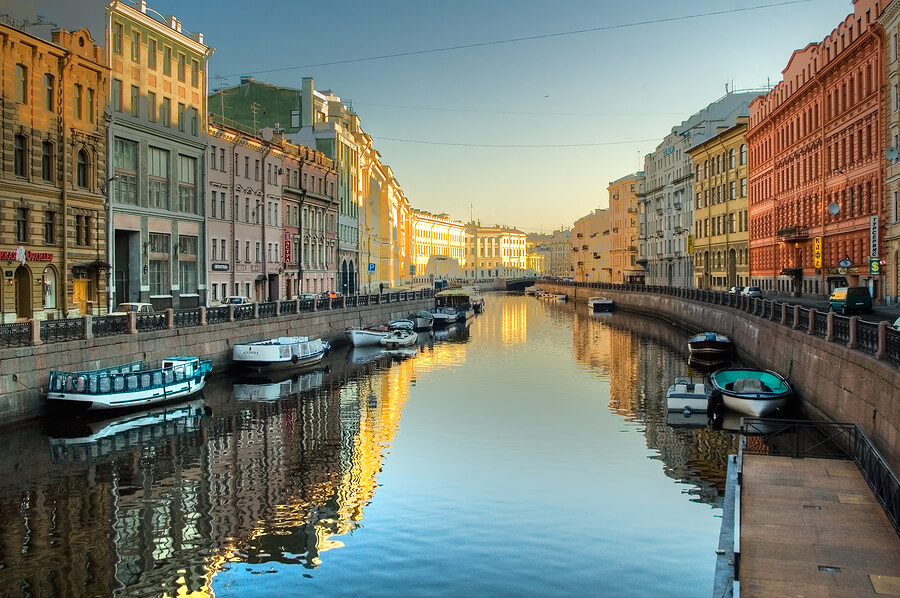 5. Salzburg
Salzburg is a picturesque city in a beautiful setting. People have been living in the area around Salzburg since Neolithic times, and with its setting amongst alpine mountains and lakes, it is not difficult to see why. The modern city is made up of a variety of architectural styles from as early as the 8th century. The Hohensalzburg Castle was built in 1077, and sits on the top of a hill like something from a fairytale. Other buildings include the Mirabell Palace with its grand gardens, and the 17th century Cathedral. One of the more recent additions, Hangar-7, is a multifunctional building shape like an aeroplane airfoil. With a collection of aircraft, racing cars, bars and restaurants, it is a unique building open to the public.
Universities in Salzburg: University of Salzburg; Paracelsus Private Medical University of Salzburg; Mozarteum University of Salzburg; Alma Mater Europaea; Fachhochschule Salzburg.
6. Valencia
The second Spanish city on our list, Valencia has a very different style to Barcelona due to its industrial history. Since the 1990s, the City of Arts and Science complex has been developed as an entertainment centre and features some of Europe's greatest modern architecture. Designed by Santiago Calatrava and Félix Candela, buildings such as L'Hemisfèric (which resembles a giant eye) and L'Oceanogràfic (which is shaped like a water-lily) hold an open-air oceanographic park, a cinema, and a planetarium. Elsewhere in the city, there are older buildings such as the Lonja de la Seda, or "Silk Exchange," which was built between 1482 and 1548. Its architecture features the vast Hall of Columns, as well as intricate stone carvings. Valencia is the perfect mix off modern and historic - read about it here in Culture Shocks for International Students in Spain.
Universities in Valencia: Polytechnic University of Valencia; University of Valencia; Valencia Catholic University Saint Vincent Martyr; European University of Valencia.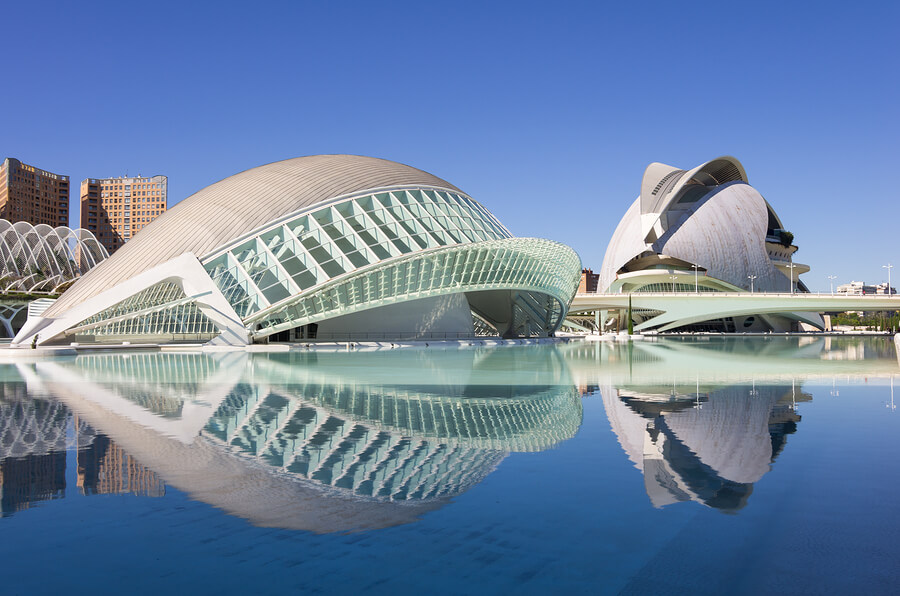 7. Abu Dhabi
The capital city of the United Arab Emirates, Abu Dhabi was planned by Japanese architect Dr Takahashi in 1967, and it is the place for tall and big buildings. Abu Dhabi's skyscrapers are some of the tallest in the world, with the highest, The Landmark, standing at 324m. One of the other important landmarks is the Sheikh Zayed Mosque, which is arguably the most opulent mosque in the world. Made with natural materials such as marble, gold and semi-precious stones, and with a maximum capacity of approximately 41,000 people, it is a huge and stunning building. Abu Dhabi also has over 2000 parks and gardens, which are the perfect place to relax in the glorious weather.
Universities in Abu Dhabi: Abu Dhabi University; Paris-Sorbonne University Abu Dhabi; Zayed University; Khalifa University; New York University Abu Dhabi; New York Film Academy; Al Ain University of Science and Technology; ALHOSN University; University of Strathclyde.
8. Jodhpur
In 2013, Jodhpur came top on Lonely Planet's list of the most extraordinary places to stay, and we certainly agree. It sits on the edge of the Thar Desert in the northwest of India, and is also known as the "Blue City" due to the iconic blue painted houses. The walls that surround the city join up with the Meherangarh Fort, which sits on a rocky outcrop that overlooks the rest of the city. Built in the 15th-century, the fort is a former palace, and is now a museum. There is also the Umaid Bhawan Palace, one of the largest and grandest private residences in the world, and just outside the city are the Mandore gardens, which is a ruined temple that has been turned into public gardens. This is also a great place to get up close to the local wildlife, including monkeys!
Universities in Jodhpur: Jai Narain Vyas University; Jodhpur National University; Dr. Sarvepalli Radhakrishnan Rajasthan Ayurved University; National Law University.
9. Valparaiso
Valparaiso is one of Chile's major seaports, and as Chile's most creative city as well, it offers a colourful stopover. The cobbled streets and colourful buildings attract many artists, such as former resident, the Nobel prize-winning poet Pablo Neruda. The buildings are painted in bright colours, or covered in impressive street art that is constantly changing. Shop owners even hire artists to create masterpieces on their walls. Valparaíso also has an unusual system of funicular lifts (steeply inclined carriages) that help you navigate the steep hills the city is built on. Not only are they one of the world's 100 most endangered historical treasures, they also offer an impressive view of the city and sea.
Universities in Valparaiso: Federico Santa María Technical University; Pontifical Catholic University of Valparaíso; Playa Ancha University of Educational Sciences; University of Valparaíso.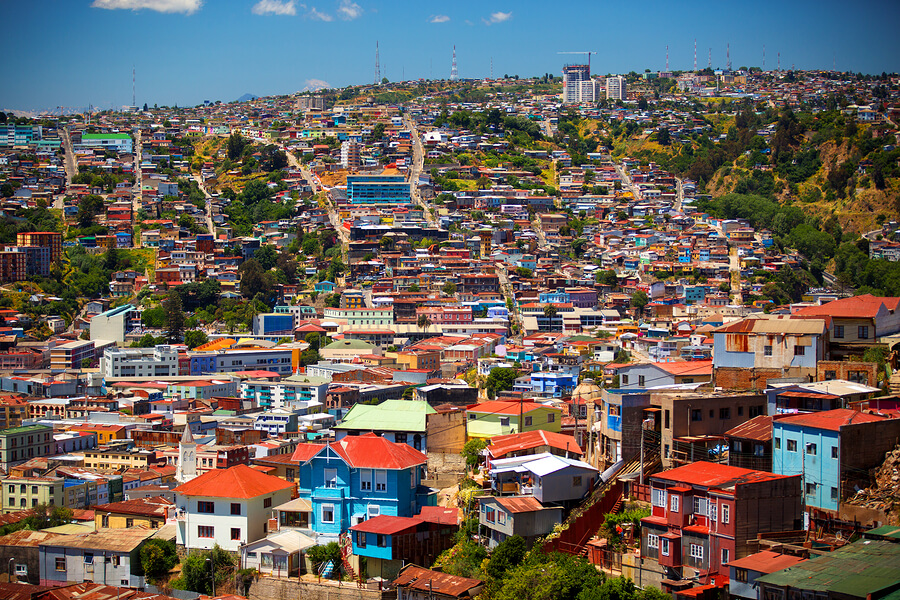 10. Santa Fe
Santa Fe in the state of New Mexico is the oldest state capital in the USA. Founded by Spanish colonists in 1610, the town was originally laid out around a central plaza. Traditional buildings in Santa Fe used adobe, or mud-brick, which created rounded buildings that blend into the surroundings. Around 1912, the city decided on a unified building style inspired by this, and many buildings, such as the New Mexico Museum of Art, are now in this Spanish Pueblo Revival style. Elsewhere, there are Romanesque and Moorish influences in buildings like the Cathedral Basilica of Saint Francis of Assisi and the Lensic Theatre. The city's Public Art Initiative also means that Santa Fe is covered in stunning sculptures in a variety of traditional and modern styles.
Universities in Santa Fe: St. John's College; Santa Fe University of Art and Design; Southwestern College; Santa Fe Community College; Institute of American Indian Arts.
These may be the best student cities for art and architecture, but if it's excitement and thrills you're looking for, check out our list of the world's Most Exciting Student Cities You Won't Want to Leave.