After following the call of conservation, Jennifer was on her way to Mauritius for six-months. But what was island life going to be like? And, the more urgent question, how much tea did she need to pack?
PACKING to spend seven months in Mauritius was a challenge for me, a girl who hadn't been on holiday for more than a week before, let alone ventured beyond the borders of Europe. I hadn't a clue what to expect and, surprisingly in this day and age, found very little information online to help with my conundrum.
It wasn't long before YouTube had moulded me into an expert packer (the key is to roll!). I was confident that I could fit seven months of 'stuff' into my suitcase, but precisely what this 'stuff' should comprise was another matter entirely.
In typical Brit fashion, I made a pile of toiletries (my favourite shampoo, a few bits of makeup, deodorant) that I was sure I wouldn't be able to get in Mauritius. I proceeded to carefully roll and tessellate my clothes and field gear for conservation work into the suitcase – and then stuffed teabags into every available crevice.
Arriving in Mauritius, it is just as you would expect from looking at the photographs: beautiful blue skies, mountains in the distance and warm air on your skin. The roads are drivable – though the enormous potholes do pose a hazard, Mauritian drivers seem to know when to swerve. They are confident drivers and, as is always the case, have their own unwritten rules of the road.
Beeping your horn in England is reserved for exclaiming your disappointment in another driver's poor decision-making, but in Mauritius, it soon became evident that beeping your horn means I see that we're on a blind corner, but I'm going to overtake you anyway. It's like a backhanded courtesy. What I'm about to do is dangerous and is happening whether you like it or not, but at least I warned you.
The roads are about the only sometimes-scary aspect of Mauritian life. Mauritians are the most laid back people I've met. Walking down the street, you're sure to get a "bonjour" from just about every person you cross, and the atmosphere amongst the communities is a pleasant one. Their laid-back way of life has, however, earned Mauritians a reputation of being somewhat lazy.
But lazy is not the word that I would use; rather, they seem to have a disregard for time. There is a phenomenon in Mauritius called 'island time' – it describes when something is likely to get done. If the boat is due at 1pm, is might come as late as 2 o'clock, depending on when the skipper finishes his lunch. There is rarely any rush to get anything done, a way of life that, once you get used to it, is strangely refreshing.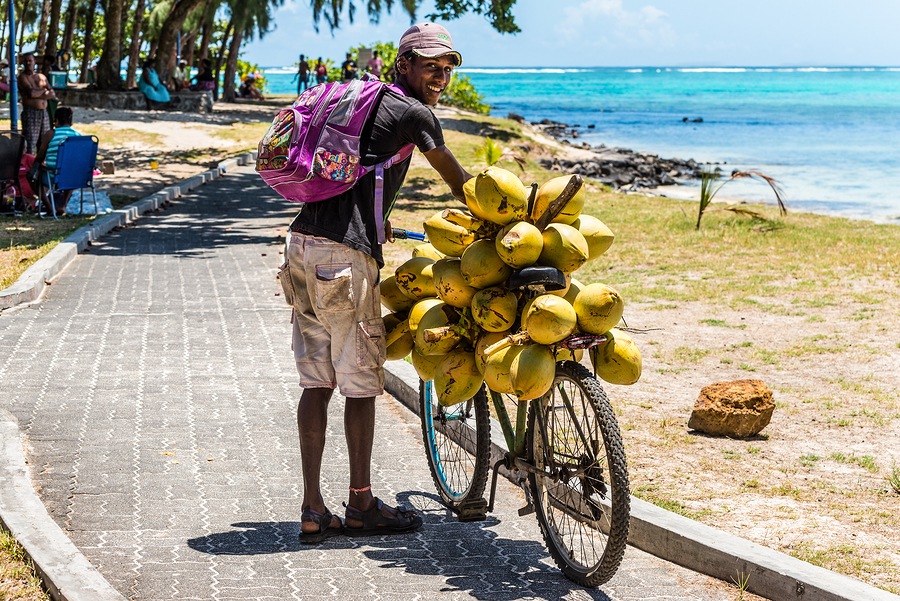 To my surprise, most Mauritians speak very good English, so my initial concerns about having to brush up on my embarrassingly poor GCSE-level French (the main language of the island) were banished. I needn't have lugged half of the toiletries that I did from England either; the local supermarket stocked all sorts of Western goods, from Head and Shoulders shampoo to Frosties cereal and Cadburys chocolate. We were situated in a town that is well known for being popular with expats, which may have helped.
The supermarket wasn't cheap, but the outdoor markets were. Vegetable and clothes markets were held around the island on different days of the week and were not difficult to find, if you were willing to undertake the (very) sticky bus journey to get there…
You see, buses in Mauritius are best described as heavily painted and decorated old bangers. They lack any level of suspension and the tiny windows are not sufficient for a metal container on wheels stuffed with people in 30-degree heat. Finding one that blares music during the journey helps to take your mind off the distinct possibility that you might faint before reaching your stop. The view from their windows helped as well.
Picture-perfect beaches are hard to miss and the weather was almost always glorious. Occasionally the single cloud in the sky would decide to empty its contents, soaking you whilst you were sunbathing. It would last a few minutes and was usually a welcome cool-down. Other days it would be grey all morning and pour down with rain. The rain was still warm, though, and the rare thunderstorm was a sight to behold.
I didn't know what to expect of Mauritius. I thought I would be craving home comforts by the six-month mark, but when it came to it, the only thing I missed from home was my family and friends.
If you want to find out more about Jen's journeys, why not read:
Why I Chose a PgDip in Endangered Species Management