WHEN making the move to university or college, one of the most exciting aspects is thinking about where you'll be living. If you're moving into a room in a halls of residence – even if not, you'll want to make sure you have a great study and living space – you'll no doubt have considered how to make your room as homely as possible. We've pulled together some tips for helping you to give your student accommodation a complete makeover.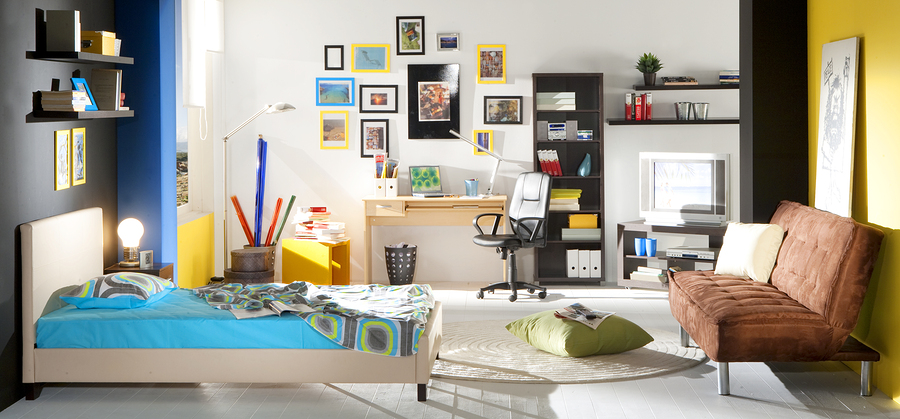 Get creative
Nobody wants the same clinical, boring room as all your other student mates at university, so it's a good idea to have a think about how you'd like it to look. Consider how you can make all the essentials - including bedding, furniture, artwork, and accessories – personalized to you in some way, whether it's choosing them in your favourite colour, having photographs of friends, family, or places special to you, or just some fun objects to convey who you are.
Make it cosy
Now you've got your blank canvas of a room, you'll want to make sure it's as comfortable as possible! Consider all those extras that will help add a cosy feel to your room, including extra pillows, and even the lighting. There's nothing better than a flickering candle for a toasty atmosphere in the evenings, and fairy lights or low lighting lamps are also really important for achieving a homely dorm space.
Accessorise, accessorise, accessorise!
You can add a little luxury to your room for next to nothing, and a few simple accessories can add a surprising difference to your room. If textiles are your thing, you could consider creating a styled headboard for your bed, or unique cushions for your room. Don't forget things like decorative flowers, ornaments, and photo frames to add those extra special touches.
Inject some colour
Halls of residence most often offer rooms that are pretty hostile – think blank walls and emptiness, full of opportunity for you to add a splash of colour and turn into something that represents you. This is easy enough to do – consider adding colour to the fabrics you buy, whether that's cushions or bedsheets, and also to headboards, lamps, curtains, art, laundry bags, accessories, and lighting. You may want to pick a colour theme - perhaps you have a favourite colour or football team strip – or just want to add vibrancy by adding all colours of the rainbow to your new space!
Be aware of your limitations
We all want to go and stick nails into the wall to hang those masterpieces we carefully selected from the homeware shop, but unfortunately for most of us, we're not able to! Instead, be prepared to get creative with how things are presented around your room. Using a string of fairy lights to peg up photos is a cool way of showing off your favourite pics, and the discrete use of blue-tack will become your best friend! Many dorms offer corkboards, so use this as a canvas for pinning up any useful and fun memories.