AS we head towards summer, calendars start to get fuller as festival season arrives. The vast amount of festivals on offer encompasses a range of creative industries, including music, film, theatre and writing. Whether it's film, food or even Father Ted, there is a festival out there. Attending a festival can be a fantastic break, and a way to unwind from work and start your summer. But for those in the creative industries, it is also a good place to find inspiration, meet likeminded people, and potentially network. If you are willing to do a bit of work, a festival is one of the best places to meet and network with all kinds of people in your profession. So whatever festival you are attending this year, consider some of these ideas to further your career whilst having fun.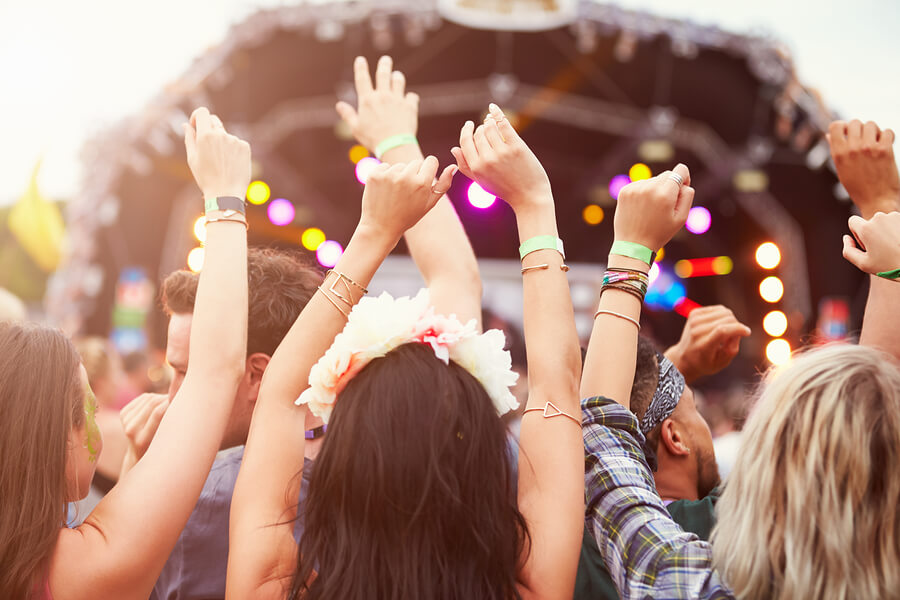 1. Take your business cards
Your business cards are pointless sitting at home, so make sure you take them with you and remember you have them! Business cards are an essential part of networking and they are the best, most professional way of giving someone your contact details. For someone creative, this is also a great way to show a bit of personality. A really interesting business card is memorable, a talking point, and less likely to be lost or thrown away by those you give it to. If you don't already have some (you should) make sure you get good quality, and something you are proud to hand over. It may seem obvious, but make sure the contact details on there are up to date and usable – don't use an email address you've forgotten the password to, or put a social network account that you never use. Have somewhere to keep them on you, for example a pocket, purse or even mobile phone cover, ready to whip out for someone interesting – which is also useful from a social point of view.
2. Show your work
Whatever your focus, don't be afraid to take an example of your work to show people when appropriate. This is easy if you make jewellery or clothing, as you just need to wear your wares. If other festival goers like what they see, they may comment and ask about it, giving you the perfect opportunity to sell yourself. It might even be worth taking a few extra samples to sell. It is a little trickier for other professions, but it is important not to feel self-conscious. Are you an artist? Feel free to carry a portfolio. A writer? Have some work on your phone or tablet to show, or even send, to someone interested. A musician? Take your instrument, if possible, and join in a communal song. Self-promotion might seem shameless, and you may feel self-conscious at first, but who will promote you if you don't promote yourself? Those people who flaunt their talents may be mocked and seen as arrogant, but they might also get some work out of it.
3. Make yourself useful to others
Networking is about creating opportunities for yourself, but a great way of ensuring other people want to help you is to help them first. Festivals, particularly the smaller ones, provide ample opportunity to present yourself as useful. If you are camping, offering help to someone pitching a tent is a great way into a conversation. There may be someone setting up equipment that needs an extra pair of hands. Someone looking lost might appreciate some directions. Even if they don't accept the help, offering it makes you seem willing, and memorable if any help is needed in the future.
4. Work at the festival
Most festivals will advertise for volunteers, or even paid staff. This is a great opportunity for many reasons. It allows you to attend festivals for free, which can only be good. Volunteering shows that you have a good work ethic, which is desirable to anyone you might want to work with. It also allows access to areas regular festival-goers don't see. If you work on the doors, you get to meet and greet everyone who comes, and this could be anyone: Someone you used to know, but haven't spoken to in years; someone you know by sight, or reputation, and even a famous festival goer – which is a good story-starter if nothing else. Working on clean-up provides other chances. You get to see the festival at a quieter time, which allows you a chance to talk to your fellow volunteers (who could be potential collaborators on projects if you work in the same field.) You might even get to meet and talk to some of the performers and speakers. Depending on the type and size of the festival, volunteering can bring many opportunities.
5. Make your stories relevant (and appropriate!)
There may be opportunities to speak to someone you could work with, someone who could hire you, or introduce you to another important person. If you are talking to a potential contact, you want to make sure you are interesting but appropriate. Have a conversation as a professional and try to give the other person an idea of your bio. You don't need to go into detail on your school days, or bring the mood down with the ins and outs of your doctoral thesis, but do give them an idea of your interests and skills. You want to mention the work you have been involved in – not the time you went skinny-dipping in the Mediterranean!
6. Follow up
After laying the groundwork at the event, make sure you follow-up after the festival is finished. This is possibly the most important part of networking, as it makes sure you remain on their radar. It is also possibly the hardest part, as you want to make sure you don't overdo it. Try to make the follow up new and interesting, don't just repeat the conversations you already had. If you talked about a particular artist, tweet the person a link to some news. If you thought of some more questions to ask, send them a quick email and wait for the response (i.e. don't act needy). With a little luck and patience, you may have started a very fruitful relationship.
Find more career tips for artists, musicians, designers, writers and crafters at our Creative Industries section!