WHAT is Las Fallas? Where is Las Fallas? And why it is so loud? Here to answer all these questions is Holly, a Las Fallas survivor studying abroad in Spain.
Imagine a city that erupts into what can only be described as pyrotechnic madness. A place where noise has no limit and sleep is a distant memory. This is the culminating chaos of the Las Fallas festival, Spain.
Every year in March, Valencia, a rather laid back Spanish coastal city, transforms itself into 5 days of animated brawl with an eclectic style of celebrations consisting of fire, street parties and parades. As an Erasmus student studying in the city, I was vaguely aware of the festival. We had a week without classes and slowly the city had started to become decorated with Christmas-esque street lights. I failed, however, to predict the magnitude of mayhem that was about to prevail.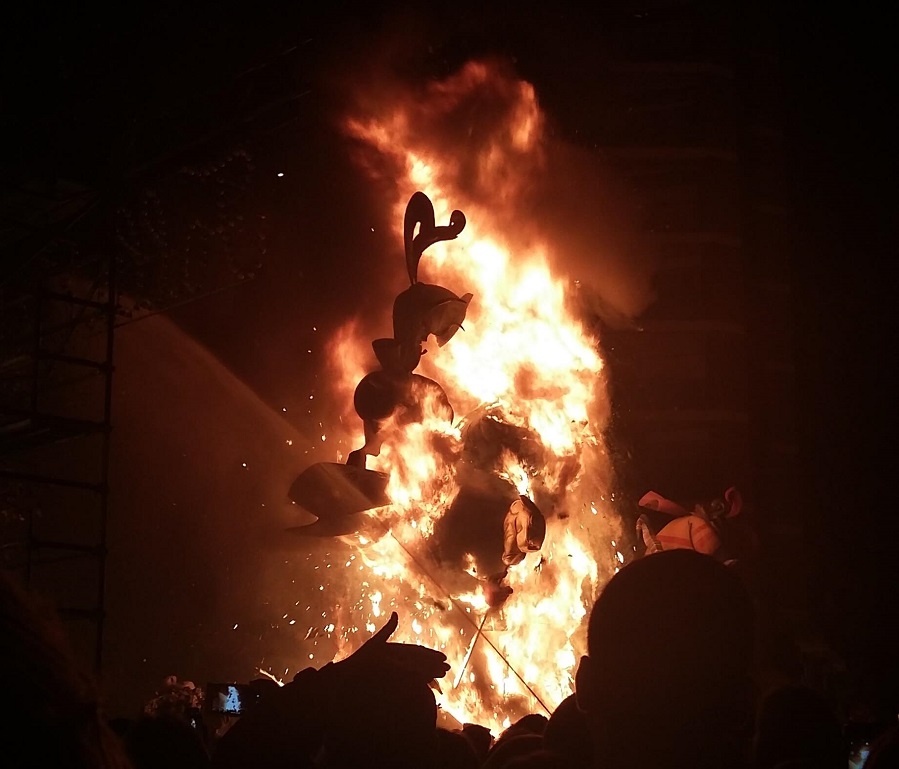 The first and very much noticeable feature starts on the 1st of March with the first Mascleta of the year. At 2pm, in one of the city's main squares, a huge pyrotechnic show unravels before the ears of thousands of people who flock to witness the impressive show, in which pyrotechnicians compete with each other. The noise is indescribable. Standing in that square with the deafening bangs vibrating throughout your whole body definitely gives you a healthy dose of adrenaline. The Mascleta happens every single day until the festival ends, getting progressively louder and more extravagant until even my flat, 3km away, vibrates.
Tip #1 Don't go if you're sensitive to loud noises or hate crowds of people. But if you want a completely unique experience, then this is for you.
While the Mascleta happens throughout March, the main part of Las Fallas doesn't begin until the 15th. On this day, almost every street will be home to a Falla, one of the most characteristic features of the whole festival. These are towering wood and paper-mache statues (Ninots) on a stand, which represent people, ideas, messages and morals that are current in today's world. Bright and colourful, the craftsmanship is second to none and artists work all year round to make theirs the best.
Tip #2: I'd definitely recommend taking a day to walk around the city and have a look at them all - they even have children's ones too!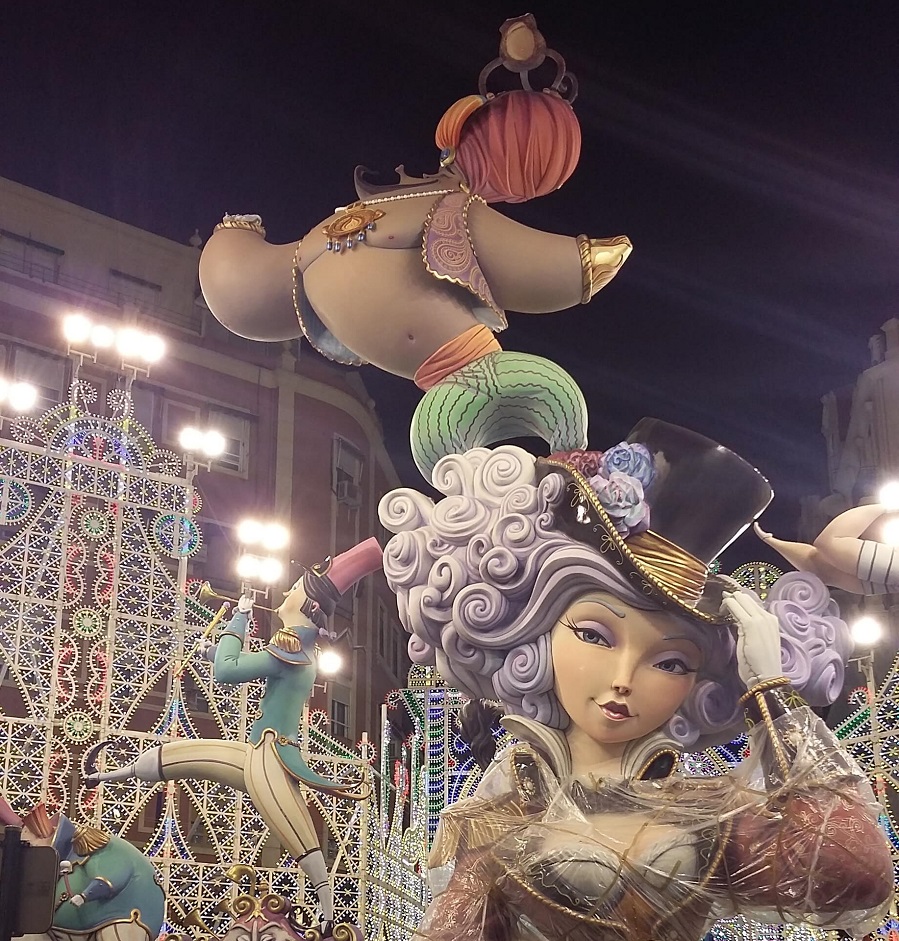 Every night from the 15th to the 18th, a spectacular show of fireworks can be seen over the old riverbed. Unlike anything I've ever seen before, these fireworks are jaw-dropping and definitely worth seeing. Each show gradually gets more impressive and ends on the last night (18th) with La Nit del Foc.
Tip #3: Don't try to get some sleep at night. These fireworks happen at about 12am-1am each night and can be heard right across the city.
One of the best things about Las Fallas (for us students that is) is the large amount of 'verbenas' that are set up around the city. These are outdoor street parties with stages for DJs and live bands that play music for everyone's taste. Watch the night come alive in front of your eyes and spend it dancing to whatever you feel like. Techno, House, Rock or Reggae - or try a different one each night, like I did!
Tip #4: Las Fallas is the only time of year when you can actually drink on the streets (all day, everyday if you really want to) - so make the most of it! Grab some beers and take them with you to a verbena.
However much it sounds like it, Fallas is not all about parties and fireworks. During the afternoon of the 17th and 18th, members of the Fallas of all ages parade through the city centre in traditional dress in l'ofrena de flors. Here they offer their flowers to their patron saint, the Virgin Mary, which are taken and used to decorate a large statue of her in Plaza del Virgen.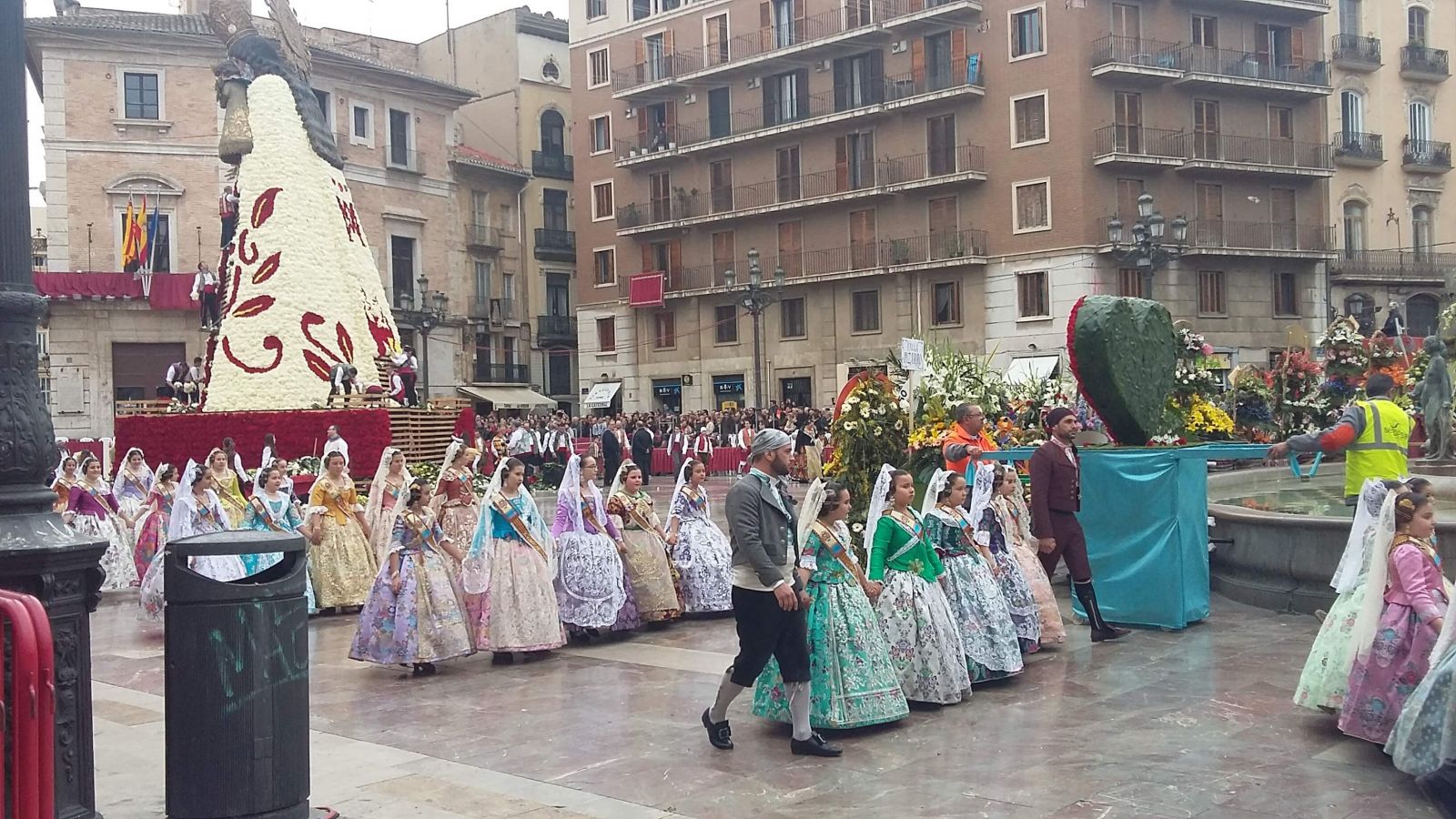 Tip #5 This is well worth watching - it starts at 4:00pm and finishes at nightfall. It's also really interesting to see how emotional this parade is for some women; you will see those wiping away tears as they reach the Virgin Mary.
As the 19th of March rolls in, the end of Las Fallas is marked by the sensational burning of all the towering Fallas and Ninots on the streets. Around midnight people crowd around each Falla and watch a small, individual firework show followed by a series of firecrackers and the burning of the whole statue. The atmosphere is incredibly different to that of the previous nights - it marks the end of the whole festival, wiping away traces that it ever really took place.
Tip #5 Watch the largest Falla in Plaza Ayunamiento burn down, it's the last one standing and is a truly magnificent sight.
Finally:
Tip #6: Watch out for firecrackers and fireworks, which EVERYBODY lights. Just because a cute 6 year old is setting them off, it doesn't mean it will make a tiny popping sound. This is probably one of the craziest parts of the festival in my mind. Everywhere you go you'll hear the sound of small explosives throughout both the day and the night. Ranging from little bangs to full on explosions, you always need to stay on guard wherever you are. They are pretty dangerous. But during Fallas, health and safety is not a thing.
Las Fallas is a festival that everyone needs to witness at some point in their life. It's mad. It's noisy. But most of all, it's the most fun you will ever have. Porque? Porque estamos en las fallas!