Maths (Postgraduate) at Loughborough University
Whatever your chosen career path, maths is an essential tool and a Masters degree in Mathematics is an invaluable addition to your qualifications.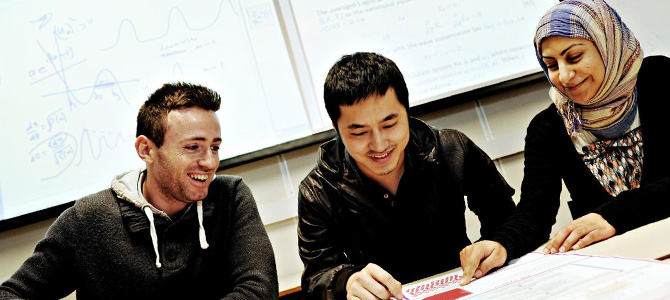 Ranked 16th in The Guardian University Guide 2017

94% in the UK for Overall Student Satisfation in Mathematics and Statistics (National Student Survey 2016)
Our taught programmes aim to cater for students who do not necessarily have a first degree in single honours mathematics.
The programmes give a strong grounding in areas of mathematics that are relevant to employment in a large number of sectors. The specific knowledge of the theme areas also enables graduates to pursue research careers.
Building on our acknowledged strengths in pure and applied research in mathematics, our postgraduate programmes can also offer established collaborative training ventures with industrial partners.
To learn more please visit the courses page here.
Find us on Social Media:



Facebook.com/lborouniversity


Twitter: @lborouniversity


Youtube: /user/lborouniversity


Instagram: lborouniversity