BECOMING famous with a record deal and avid fans is often the ultimate goal for bands, and you might be keen to get straight into making music straight out of school. But, if you are thinking of deciding between higher education and a music career, it is worth remembering the rich history of the university band. A number of famous bands not only met at university, but also developed their style during these years. In fact, very few bands that met at university actually studied music!
Learning from other musicians with different styles might help you to experiment with the music you create, and a university campus is a great place to grow a fanbase. Some of the bands below found both their sound and their fame via their university courses.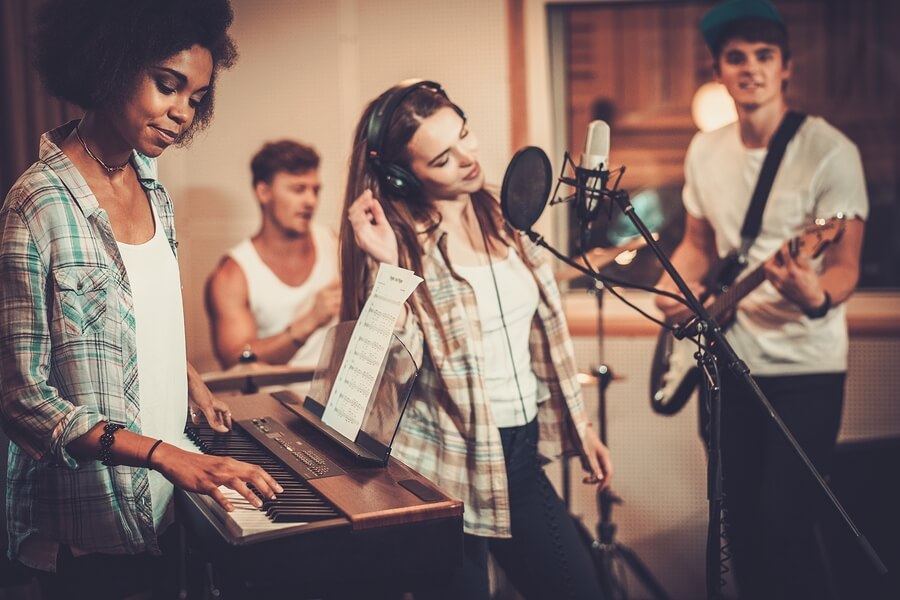 Pink Floyd
One of the most famous university bands, the beginnings of Pink Floyd formed on the Architecture course at London Polytechnic. Roger Waters and Nick Mason were both studying the course when they began playing cover-songs together as part of another band. When Syd Barrett moved to London in 1962 to study at the Camberwell College of Arts, they banded together with guitarist Richard Wright and began playing as Pink Floyd Sound, and eventually Pink Floyd. The band may have had many different line-ups and names over their career, but albums such as Dark Side of the Moon and The Wall are still iconic today.
Coldplay
When Chris Martin and Jonny Buckland met during their first week at UCL (University College London) Martin was studying Ancient World Studies and Buckland was studying Astronomy and Mathematics. Despite the non-musical degree subjects, within a few years they would be members of one of the biggest bands of the '00s. First they were Pectoraiz, then they were Starfish, but eventually they became famous as Coldplay, the band that created such hits as "Yellow," "Clocks" and "God Put a Smile upon Your Face." Both Martin and Buckland also completed their degrees, with Chris Martin achieving a First Class Honours.
Queen
Once upon a time (in the early 70s) there was a bassist and a guitarist who placed an advert for a drummer on a university's notice board. Brian May and Tim Steffell were both students (May at Imperial College and Steffell at Ealing Art College) and their advert attracted the attention of a fellow student and drummer called Roger Taylor. The trio formed a band called Smile, signed a record deal with Mercury Records, and recorded a few songs. But the story didn't end there: When Tim Steffell introduced the others to another Ealing Art College student called Farrokh Bulsara, Smile changed their name to Queen, Farrokh Bulsara changed his name to Freddie Mercury, and they became one of the biggest bands of all time.
alt-J
When three Fine Art students and one English student met at Leeds University, they began sharing ideas for music and recording songs in their hall rooms. Because they had to keep things quiet in the student accommodation, the band were unable to use loud bass and drums, and this was how the unique sound of alt-j was developed. According to lead singer, Joe Newman, the members "basically went to art school to start a band" but they waited until they had graduated before focusing on their music. After a number of months, they signed a record deal in 2011. They released the album An Awesome Wave a year later, and have played at festivals including Latitude, Bestival and Green Man.
Commodores
As freshman at Tuskegee University in the late 1960s, members of the original Commodores line-up included Lionel Ritchie and Thomas McClary. The six-man band won the university's freshman talent contest, and went on to play for their fellow college students at fraternity parties and clubs, performing mostly cover-songs. When they began writing their own tunes, they landed the gig opening for The Jackson 5 tour, and were signed with Motown records in 1972. The band have been performing many styles of music since then, including funk, pop and R&B. The line-up has changed often, and today it is a three-piece band that still includes original member and Tuskegee alumni, William King.
Public Enemy
Carlton Ridenhour and William Drayton met at Adelphi College in Long Island, during Thursday Night Throwdowns – an open mic night at the Ruth S. Harley University Centre. They were noticed by future music producer, Hank Shocklee, and went on to become known as Chuck D and Flavor Flav, members of one of the most critically acclaimed hip hop bands in history. Since the mid-1980s, Public Enemy's hits such as "Bring the Noise" and "Welcome to the Terrordome" have consistently sold well, but also questioned political and cultural aspects of society. They are one of the few hip hop bands to be inducted into the Rock and Roll Hall of Fame. In 2013, Chuck D returned to Adelphi College, where he was given an honorary doctorate.
Ra Ra Riot
The original line-up of Ra Ra Riot formed in 2006 whilst the members were attending Syracuse University in New York. The natural start of their career was to play at house parties and small venues around the campus, and record their own demo. Even in these small spaces, the band showed a lot of energy in their performances, and six months after forming they were getting TV appearances and good reviews. Their style of Indie-rock-you-can-dance-to has a wide range of influences, and they have opened for and supported a range of bands including the new-wave band Bow Wow Wow and Indie-rock band Tokyo Police Club. Ten years later, they are still creating music in a range of styles, and have a new album out this year.
And one who went back…
If you decide to pursue a musical career first, it doesn't mean you have to discount university. Brian Edward Cox was a keyboard player for rock band Dare, and was studying physics at Manchester University when he joined D:Ream, a pop group that is famous for hits such as "Things Can Only Get Better." When D:Ream disbanded in 1997, Cox went back to the University of Manchester to complete a Doctor of Philosophy in particle physics. His previous performance career helped steer him towards broadcasting, and as Professor Brian Cox, he has presented many television series and written several popular books on physics.
Related articles: 8 Famous Footballers Who Studied at University